Indian Guru Exposed As Devil In The Garb Of Saint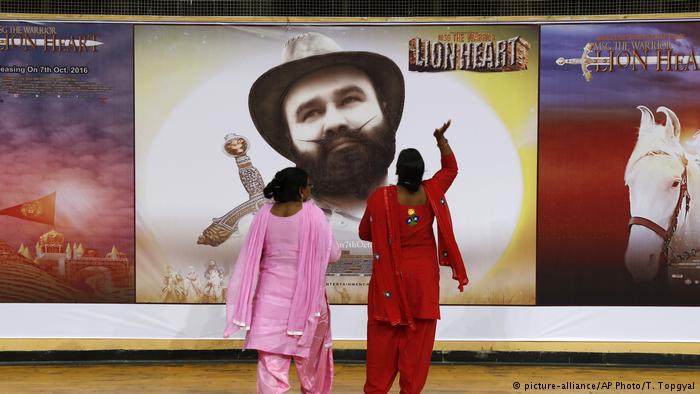 After the 50-year-old "saint" Gurmeet Ram Rahim Singh Insan, also touted as the 'Guru Of Bling' or the 'Rockster Baba', was found guilty of raping two female followers, riots broke out in the northern Indian state of Haryana. Some 32 people were killed and 180 injured.
Last week, a huge fan-following of over 200,000 people gathered in Panchkula where the trial was being held. Singh had arrived at his own trial in a convoy of hundreds of cars. Riots broke out immediately after the verdict of guilty was announced. Singh's devotees torched vehicles, attacked police and journalists and vandalized government buildings. The violence then spilled over to many parts of northern India, including the states of Haryana and Punjab and led to at least 32 deaths and over 180 people being injured.
Gurmeet Ram Rahim Singh Insan rose to fame as the head of the Dera Sacha Sauda ashram, which claims to be 'a Social Welfare & Spiritual Organization that preaches and practices humanitarianism and selfless services to others'. The organization has helped to build schools and rehabilitate prostitutes. The self-styled guru would boast of more than 60 million followers. Considering himself a saint, he would sport simple white outfits and gave sermons about healthy living and renouncing drugs and alcohol and preaching a life of simplicity. Yet, he also led another more flamboyant life full of luxury – that of a rockstar and celebrity – and was often spotted in flashy glittery outfits, hobnobbing with politicians and Bollywood celebrities. This lifestyle earned him the name 'Guru Of Bling'.
Singh also had a larger-than-life image thanks to the many "Messenger of God (MSG)" films that he scripted and starred in. In his latest film 'MSG – The Warrior Lion Heart', he played the role of a secret agent fighting aliens and UFOs. He has also starred in a number of self-produced pop videos in which he sang fervently of patriotism and renouncing drugs.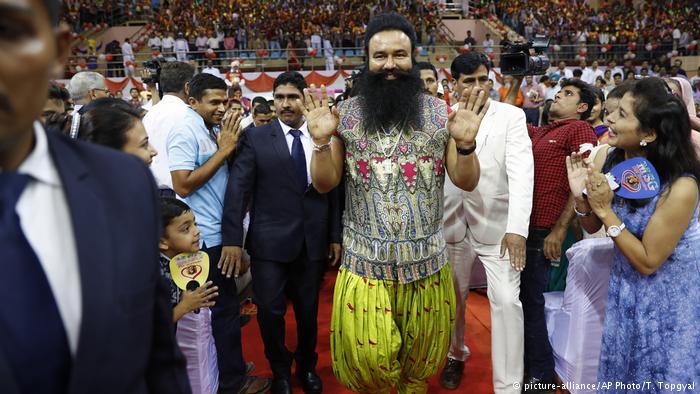 Singh's followers call themselves 'Insan', which means 'human' in Hindi, and add this to their surname. It is the promise of a life of dignity in a society which remains divided by caste distinctions, with lower castes deprived of basic amenities.
When the news of the riots made headlines across the world, everybody sat up to take notice of these devotees and wondered who these followers were and what had made them forget their humanity. The #IsupportMSG on Twitter illustrates the faith and loyalty of Singh's followers. Many believe that he was framed.
#isupportMSG because he fills me with positivity whenever I loose hope it is his blessing that we r leading a peaceful life in this world

— Amita insan (@7777raju) 24. August 2017
They continue to sing praises of their spiritual guru and refuse to accept he could be a rapist. Yet photos have popped up in the press that reveal a cave-themed palatial underground home where Singh would allegedly take a pick from the girls among his devotees and make them surrender their bodies. The 'rape' was disguised as an act of 'cleansing' and 'blessing' after which the devotees were married off in mass weddings.
The matter first came to light in the year 2002 in an anonymous letter to the then prime minister, Atal Bihari Vajpayee, in which one woman complained of sexual assault. A second complainant also came forward and recounted her story to the Central Bureau of Investigation.
This is not the first time that a self-proclaimed 'godman' in India has been accused of sexually exploiting his followers. Ashrams in India spring up like startups – one charismatic leader charms a group of followers and starts a sect. They provide what the government fails to provide – education, health care and most importantly – dignity for the lives of people who are marginalized. In a country without stable socio-political structures, there is enough room for charismatic leaders such as Singh. Many of these Ashrams are today multi-million spiritual empires with branches across the world.
Politicians of all colors seek the blessings of such gurus to gain access to the followers, who can be translated into sizable vote banks if a guru decides to favor a particular political party. Singh enjoyed high-level security, VIP access to airports and huge political clout. His flamboyance irked the literate and educated classes of the country but his activities convinced hundreds of people that Singh was their guardian angel watching out for them and working towards improving their lives.
Singh has now been dethroned but it is only a matter of time before someone new fills the void. The marginalized masses of India will channel their faith in anyone who promises them a little dignity.
Author: Roma Rajpal-Weiß
Editor: Anne Thomas