Eid Mubarak!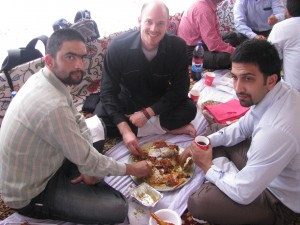 Ladies and Gentlemen, it's time to party. Our blogger Ronaq Zahoor is celebrating Eid ul Zuha, which literally means the "Festival of sacrifice." Ronaq's been busy cooking for the feast , so we asked her to send us the recipe for Rogan Josh, a tasty mutton preparation from her birthplace, Kashmir. Enjoy!
Recipe for Rogan Josh
Ingredients
¼ cup vegetable oil
3 bay leaves
2 teaspoon whole cloves
3 black cardamoms
1 tablespoon green cardamom
1 piece cinnamon
1 teaspoon fennel seeds
4 small dried chillies
1kilogram red onions, sliced
½ teaspoon salt
1 teaspoon turmeric
1 teaspoon chilli powder
3 teaspoon ground coriander
2 teaspoon fresh ginger paste
2 teaspoon fresh garlic paste
1 tbsp chilli puree
2 tomatoes, chopped
1 tablespoon tomato puree
1 kg cubed lamb leg or shoulder
2 tablespoons chopped coriander leaves
Tomato wedges
Shreds of ginger
Preparation
Heat oil in a pan
Add bay leaves, cloves, green and black cardamom, dried chillies and fennel seeds.
When the spices are sizzling and fragrant, add onions and salt
Fry till onions are brown
Add powdered spices, ginger garlic paste and chilli puree
Add little water so the spices don't burn
Add tomatoes, tomato puree and a pinch of salt
Stir well so that every ingredient mixes well
Turn the heat high and add the lamb cubes
Stir well so that all the meat pieces are coated in spice
Add a little water
Cover with a lid and cook for 30 – 40 minutes
Your Rogan Josh is ready!
Serve hot after garnishing with tomato, ginger and coriander. In Kashmir, Rogan Josh is served with rice.