Stand aside Superman and Batman: Here comes Pad Man!
If this page does not open properly in your browser, disable the protection for a moment

Yes, you read right! Pad Man is a Bollywood film based on the true story of a Coimbatore-based social entrepreneur, Arunachalam Muruganantham, who made it his mission to find a cheaper way to manufacture affordable sanitary napkins for women in his village.
Muruganantham's invention was inspired by his love for his wife who sacrificed menstrual hygiene and chose dirty rags for herself so she could buy milk and other necessities for the family. Sanitary napkins are a luxury for millions of women from especially rural areas in India. A pack of 15 pads costs 120 Indian Rupees, which is around $3. A small sum one would think, but in a country where 50% of the population lives on $3 a day, this sum is the difference between providing milk for the kids or buying sanitary napkins.
So Muruganantham decided to take matters into his own hands, and began his research. It took him almost 5 years to create a machine that produced affordable sanitary pads. He showed his model to scientists at the renowned Indian Institute of Technology (IIT) in Chennai. IIT entered Muruganantham's machine in a competition for a national innovation award. He won the competition and fame came knocking on his door. The award was bestowed by the then President of India, Pratibha Patil.
In a country where menstruation is still considered a taboo topic, Muruganantham's fame put him and the topic front and center. Twinkle Khanna, the film's producer, picked up the story and included it in her book in 2016 – The Legend Of Lakshmi Prasad.
–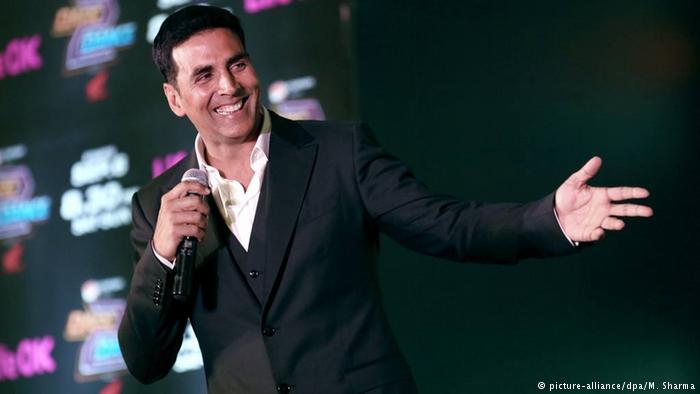 Padman: Indian Bollywood actor Akshay Kumar. Now, with the Bollywood film, celebrities are endorsing his #Padmanchallenge campaign by holding pads and posting messages on social media promoting awareness. The campaign was kicked off by the film's cast Akshay Kumar, his wife and the film's producer Twinkle Khanna, and his co-stars Sonam Kapoor and Radhika Apte.
The in-your-face campaign has now cast the spotlight on the pad in a country where women hesitate when asking for a pack of pads in a shop and where the shopkeeper discreetly wraps them in old newspaper and to hide them further, shoves them in black plastic bags. Primetime television is also currently obsessed with the viral campaign where fans are joining in by posing with pads. For all its benefits this marketing campaign has its critics.
Comedian Supriya Joshi has called out the challenge for missing the point about period poverty, underscoring the utter wastage of unused pads that are being used  as props for these campaign pictures.
Marketing campaigns with a cause are a slippery slope, and the comedian raises a valid point. Either way, the conversation has penetrated many homes and with the support of the Indian government, the filmmakers will be taking the film to villages across India to promote awareness about menstrual hygiene.
Personally, it gives me real hope that the film and its related campaigns will go a long way towards changing the mindset of a society that is plagued by misinformation and superstitions surrounding menstruation.
Author: Roma Rajpal Weiss
Editor: Brenda Haas