Is India the worst place in the world to be a woman?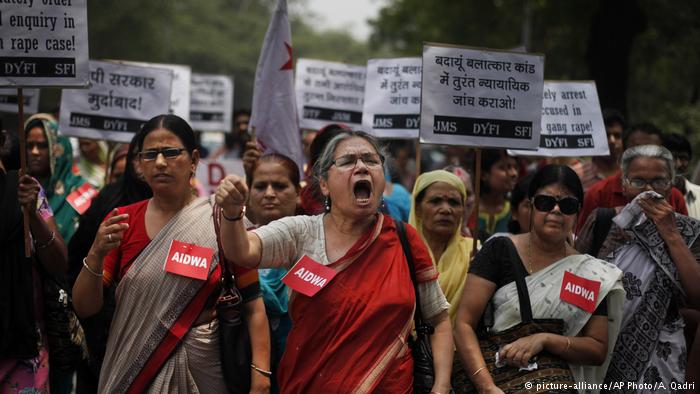 India is the world's most dangerous nation for women due to the high risk of sexual violence and regressive traditions, said a new study. Activists disagree with its methodology, but agree that gender crimes are up.
Repeated instances of brutal and horrific sexual crimes in India have often grabbed global headlines over the past several years. They have spurred a far-reaching debate about the safety of women and deeply entrenched patriarchal tendencies in the world's second-most populous nation.
They have forced the Indian government to tighten laws on sexual assault and trafficking, and take measures to ensure women's safety in both domestic and public spaces.
These measures, apparently, haven't brought about the desired change, as revealed by a new poll conducted by the Thomson Reuters Foundation. It concluded that India is the most dangerous country in the world to be a woman because of the high risk of sexual violence and slave labor.
The results were based on a survey of 550 experts on women's issues across the world, including academics, health workers, policymakers and NGO workers. The experts were asked to consider parameters like sexual and non-sexual violence, human trafficking, cultural traditions, healthcare and discrimination.
Embarrassingly for India, it emerged in this survey as the most dangerous place for women due to the high risk of sexual violence against them, as well as human trafficking for domestic work, forced labor, forced marriage and sexual slavery, among other reasons.
In the same survey seven years ago, India was the fourth most dangerous country for women. But this time around, India fared even worse than places like war-torn Afghanistan and Syria, which ranked second and third on the list.
India was also the most dangerous country in the world for retrograde cultural practices that impact women, the survey said, pointing to issues like female genital mutilation, acid attacks and child marriage.
Little progress
Nine of the 10 countries on the list were from Asia, the Middle East or Africa. The only Western nation in the top 10 was the United States, which ranked as the 10th most dangerous country for women.
The US shot up and ranked third when respondents were asked where women were most at risk of sexual violence, harassment and being coerced into sex. The foundation said this was directly related to the #MeToo movement.
"I am not entirely convinced of this gradation that India is the 'worst' — sexual violence is a global concern. Rating countries is not the answer. Yes, India should face up to the fact that it has a problem tackling sexual violence," Kavita Krishan, secretary of the All India Progressive Women's Association, told DW.
Krishnan, who was also a respondent to the TRF survey, emphasized that little progress has been made in addressing the attitudes that legitimize violence and discrimination against women in India.
Almost every day, Indian television channels and newspapers report with tiresome regularity of young girls and women from all walks of life being assaulted, molested, violated and raped — both in the country's sprawling cities as well as in tiny villages.
The crimes have become more frightening and vicious, with even young children being subjected to grotesque acts.
"On every front mentioned in the TRF survey, including trafficking, sexual bondage and child sex, the crimes are just spiraling out of control. We are shocked by the kind of brutality that plays out regularly," child rights activist Swapna Mazumdar told DW.
A closer look at statistics on sexual violence in the country shows that it has risen sharply. The latest National Crime Records Bureau data reflect how incidents of rapes have gone up by 12-15 percent, while other crimes have risen by 3-5 percent in recent years. Nearly 40,000 rapes were reported in 2016 despite a greater focus on women's safety.
Getting from bad to worse
Despite painstakingly collecting the data on crimes, India still does not have a national registry for sex offenders that will allow various state governments and their respective police forces to share information.
"That India is an unsafe and dangerous place for women is well documented. The whys and hows of the ranking is a different matter, but I endorse completely that women have a raw deal when it comes to facing violence, whether in the streets, public transport or public spaces," Rebecca John, a criminal lawyer, told DW.
Although the government has passed legislation increasing penalties for sexual assault, rape, and sexual abuse, including extending prison sentences and introducing the death penalty to those convicted of raping children up to 12 years of age, it has not proved a deterrent.
"People often say a tough law can bring about change. But what is a tough law? Law needs to be effective and the investigating agency and prosecution more proficient and efficient. That is a dire need," says lawyer Seema Misra.
Recent incidents of rape, including the barbaric murder and gang rape of a Muslim minor girl in Kathua in Jammu and Kashmir, have stirred the conscience of the nation.
"All these barbaric incidents in various parts of the country have once again put the spotlight on India's poor track record in protecting its women. What can we learn from them? We need to reflect, rethink and coordinate our efforts to make safer spaces for women," Geetha Nambisan, director of Jagori, an organization working toward women's empowerment, told DW.
Author: Murali Krishnan