Rodrigo Duterte's deadly drug war — A Filipino mother's rage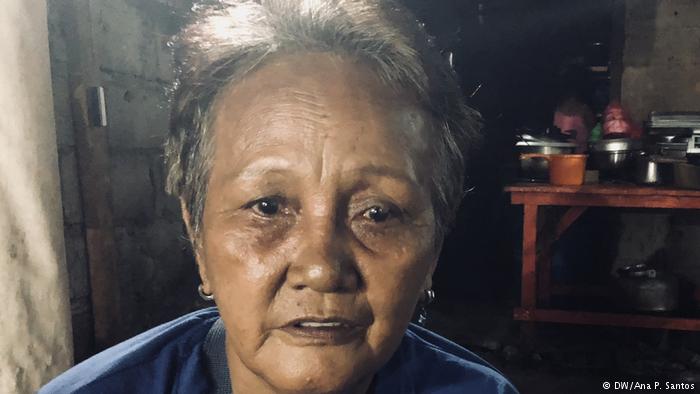 Clarita Alia has lost four of her sons to extrajudicial killings in the Philippines. She says many more mothers like her will have to bury their sons as long as Duterte is president.
"You will regret what you did to me. I will kill your children one by one," the police officer spat at her. And just as he had vowed, Clarita Alia's sons began falling one by one.
Richard, 18, was the first to die. He was shot by unidentified gunmen but survived. It was the stabbing that killed him four months later. That same year, they came for 16-year-old Christopher who was also stabbed while eating at neighborhood canteen. Then 15-year-old Bobby was killed and then 14-year-old Fernando.
"The knife they used to stab Richard and Christopher are knives used for butchery in the slaughterhouse. The knives they use to kill people are the same that are used for killing swine," Alia (main picture) told DW, speaking from her small shanty in downtown Davao.
Between July 2001 and April 2007, four of Alia's children were killed by unknown masked assailants.
With his characteristic bluster, President Rodrigo Duterte said at his State of the Nation Address last July that his administration's deadly campaign against illegal narcotics would continue. "It will be relentless and it will be chilling" as the day it had started more than two years ago, declared Duterte.
'Davao formula'
But for Alia, 64, death came for her sons long before Duterte became president.
Before Duterte was elected president in 2016, he was mayor of Davao City, in southern Philippines. In the more than two decades that he held the post, Duterte made a name for himself as a tough-talking, iron-fisted ruler who spun Davao around, turning it from a lawless center of crime into a bustling metropolis and the third largest economic hub in the Philippines.
But the price tag for the clean up was a steep one. Kill squads — armed groups who carried out extrajudicial killings — prowled the streets of Davao killing suspected petty criminals and drug users. They became known as the Davao Death Squad, reportedly a tight group of ex-insurgents and police officers who, under Duterte, took it upon themselves to carry out their own kind of vigilante justice.
In its 2009 report, Human Rights Watch (HRW) noted that reported targeted killings in Davao during Duterte's post as mayor spiked from two in 1998 to 124 in 2008. In January 2009 alone, 33 killings were reported.
HRW also studied the "anatomy" of the killing squad deaths in Davao and found there to be striking patterns: Pairs of masked assailants on board a motorcycle without a license plate would shoot their target in broad daylight in a public place. The victims were usually warned by village officials and police officers that their names were included in a "list" of people to be killed unless they stopped engaging in criminal activities. Most of the victims were young men from urban poor communities.
The police always appear on the scene after the crime has been committed. Charges are hardly ever filed and no one is held accountable.
The pattern has a chilling resemblance to the current war against drugs.
In an interview with DW, Senator Antonio Trillanes criticized Duterte for applying "the Davao formula" to his current brutal crackdown on illegal drugs. It is estimated that over 20,000 people have been killed so far as a result of this campaign.
Many more will continue to die
Alia was defiant the day the police came for her son, Richard. He was accused of rape and was going to be arrested. Alia challenged the police to present a warrant of arrest. She refused to hand over her son when it was evident that the police did not have one.
"I think the police officer [name withheld] felt humiliated since there were a lot of people who saw me yelling at him," recalled Alia.
Alia has written down everything that happened, including the names of those she suspects are behind the death of her sons, in a diary kept in a corner of her home together with pictures of her sons.
When Duterte won the presidency in 2016, a web of fear wrapped itself around Alia's heart. She was sure that many other mothers like her would lose their sons. 17 years after her first son was killed, Alia is still consumed with rage.
"Duterte is a demon," she said, shaking as tears ran down her face. "He is to blame for all those who have died. Just listen to what he says on TV: 'Make your children behave or they will be killed, too.'"
Early this year, the International Criminal Court (ICC) announced that it would start a preliminary examination into the extrajudicial killings under Duterte, in response to complaints filed by a lawyer and opposition legislators.
"The ICC announced they would conduct a preliminary examination. They won't do that as a matter of course. They are basically telegraphing their punches," HRW researcher Carlos Conde told DW.
If Duterte is found guilty, Alia will finally get the justice she has long been waiting for. "Until he is removed from the presidency, many more will continue to die," said Alia.
Author: Ana P. Santos