The fight against breast ironing in Cameroon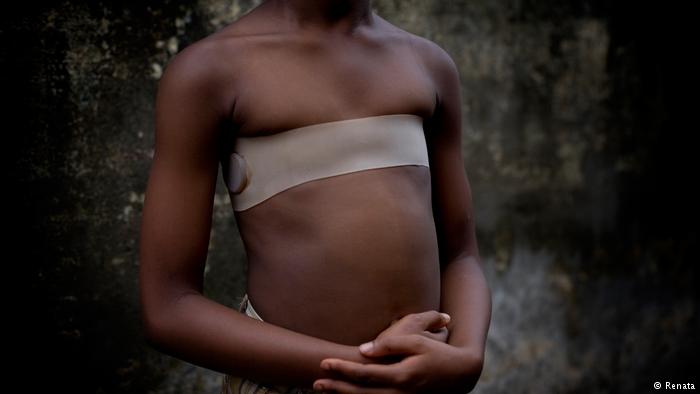 It's an old and painful practice. But even today, young girls in Cameroon have their breasts bound or beaten with stones. A women's rights group is fighting back against the tradition through education in schools.
Winnie Eyono Ndong stands in front of 70 girls and boys at a primary school in Cameroon's capital Yaounde. The students, all between the ages of nine and 11, sit tightly packed on small wooden benches. The air inside the classroom is stuffy. As Ndong begins to tell her story to the third graders, the children grow quiet and seem to absorb every word. Ndong, who works for the NGO Renata, is talking about one of the biggest taboos in Cameroon: breast ironing. The painful traditional practice still exists in today's society, despite educational efforts. Those who do it believe it protects girls from sexual harassment and early marriage.
Every week for the past seven years, Ndong has visited schools with her colleagues. Her involvement with the organization came about by chance. Ndong was just over 18 when she became pregnant, but she had trouble bonding with her newborn daughter. Until one day the 'tantines' — 'aunties' in French — from Renata invited them and other girls to a workshop for young mothers.
"I was only motivated to go because they covered the travel costs," Ndong told DW. But she was thrilled by what she learned there. For the first time she thought "my life is not over yet."
A grandmother causing pain
Since it was founded in 2005, Renata has been working to create awareness of the breast ironing practice and its consequences, particularly through workshops for teenage mothers. Ndong, 27, has been personally affected by breast ironing. She grew up with her mother in Yaounde, but was sent to her grandmother's land for vacations. While she was there at the age of nine, a cousin told her about the breastplate. Her grandmother had taken a spatula, heated it in the fire and pressed it onto the girl's chest.
"When I saw my cousin crying I asked her, 'How can such a small, hot spatula cause so much pain?' She just said, 'It hurts a lot'."
A few days later, Ndong would experience the same, unbearable pain. "My chest stared to ache and it began to grow. I told my grandmother and she just smiled and examined me." Later that evening, Ndong had to endure the so-called breast ironing. Her voice is strong and doesn't falter as she explains this to the students.
Intentional disfigurement
There is currently very little data available about the practice of breast ironing. One of the most recent studies dates back to 2013 and was conduced with the help of German development organization, GIZ. Compared to surveys carried out in 2005, the number of girls affected has fallen by at least half. However, 12 percent of the 5914 participants say they have been subjected to breast ironing.
According to Catherine Aba Fouda, a spokeswoman for Renata, the phenomenon also exists in neighboring countries, including Togo and Chad. "But in those countries, it has not yet been assessed as a problem, and even if it was, people do not know how to talk about it as it is so firmly rooted in tradition and culture," she told DW.
The techniques used in the practice differ depending on the region. In Ndong's family, her grandmother wanted to massage the breasts of her grandchildren three times a day after being 'treated' with a hot spatula so that they would not grow. Sometimes, they are even bound with elastic bands. But the end goal is the same regardless of the method: The breasts should not grow, or should at least look as ugly as possible.
"Women in the north told us they wanted to protect their daughters from child marriage," explains Fouda. "In the west and in central Cameroon, people say that if a girl grows breasts very early, she will not develop well. And that she will be distracted from learning because the boys will stare at them."
The idea is that unsightly breasts should protect girls from sexual assault. But Ndong does not believe this works. Her story reaches a tragic moment in her life. Afraid that her grandmother might hurt her again, Ndong ran away and hid in the woods. An uncle found her and promised "if your grandmother calls you back, I'll talk to her and she will not bother you anymore." Ndong pauses for a moment. Instead of protecting her, her uncle raped her, she explains. "But nobody in the village believed me. He told them I just fell over."
The taboo of sexuality
The girls and boys in the classroom are the same age as Ndong was back then. As soon as she finishes her short speech, a few hands immediately shoot into the air. One of the boys wants to know why she didn't get help. Another wants to hear more about the harmful consequences of breast ironing. Ndong patiently answers every question and admits that she still experiences pain today as a result of the so-called treatment.
"Even in the third grade, some children are already experiencing the effects of puberty," explains class teacher Emmanuel Dieudonne Nkodo Olinga. "These visits help them find their bearings." But open discussions such as this one are the exception rather than the rule as the topic of sexuality remains a big taboo in Cameroonian society.
As the presentation draws to a close, all of the students stand up. Together with Ndong, they call out "No to breast ironing." Before Ndong and her colleagues head to the next school, she turns back to face the students. "Your chest is yours," she says. "Nobody can touch it."
Author: Katrin Gänsler (imm)