Of perverts and peers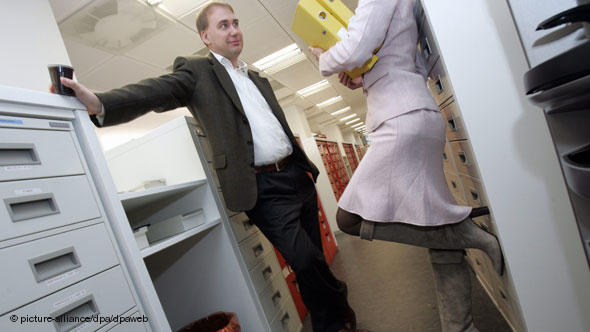 Women Talk Online contributor Soofia Asad from Pakistan complained against sexual harassment at the workplace and was asked instead to "apologize for instigating the incident." But she has made up her mind to do something about it.I was 13 when I was molested by my uncle. He was a doctor. That was the last time I complained of any sickness to my parents.
I was 22 I did my first internship at a foreign bank in Karachi. My first work experience in the corporate world included a boss who would pass sexual remarks at me in front of all the colleagues. At the most, some people giggled at him.
By the time I graduated, I had become stronger in dealing with such situations. I had developed the gait, the mannerism and the attitude that intimidated people enough to refrain from doing anything which revealed some kind of a gender bias on their part, at least in front of me.
Today, I am a 33 year-old single mother, a bold photographer with feminist leanings, wiser and calmer.  Yet, I have experienced a terrible harassment incident at the workplace.
Working for Blue Noodles Communications as a Creative Director was a choice I made based on my recently divorced status and my wish to gain some experience in the development sector. This organization had a good reputation and had also been engaged with gender-based themes in Pakistan. They even "allowed" me to bring my 6-year-old daughter to office after school. It seemed like a good start.
After I joined, I was introduced to the entire team, except to one person. That person was always around, had no position in the office and no business in the studio. Yet he was always around, shouting incomprehensible orders and taunts at whoever he wished to do so. With me, however, he was very sweet. After all, I was the only female employee. On probing a little, I found out that this was the boss's (owner/CEO) 'peer bhai' (brother, not by blood but by a spiritual guide's- a peer's- directive). I was clearly told to not mess with him.
I used to reach work early, two hours before anybody so I could leave by 5 pm. The office would be empty, except for the peer bhai, who lived there. The guy would sit around me and chat for hours, regardless of whether he was getting a response. I ignored him. One day, he asked me if I minded him wearing shorts in the mornings. When I said it was none of my business, he turned and bent towards me saying, "No, my underwear shows when I bend, I hope you don't mind that." I was speechless.
My lunch box started getting surprise additions to my bland and boring meals. One day, as I opened my lunch box and found a beautifully cooked kebab on top of my daal (lentil soup), I thanked the peer bhai in the presence of others and told him to be so kind to others as well, not just to me. I asked him, "Are you doing this because I am a woman?" He did not answer. Later, he called me on the office phone and screamed at me for making such "inappropriate" remarks in front of others. From that day, I was the target of his tantrums and taunts.
I finally confronted him one day and told him that I had no patience for his tantrums. The peer bhai in shorts got up from his chair, ready to attack me, shouting and screaming curses (including "F*** you, stupid girl") with spit flying out of his mouth. One of the male colleagues interfered and stopped him from attacking me.
I was asked to work from home from the next day. I insisted on resolving the issue. I discovered that a similar incident had happened between the peer bhai and another female employee in the past. It was beyond apology now. It was time for our boss to take notice and action. That is the least you can expect from an organization that works so passionately on gender issues and harassment at the workplace.
Regardless of having worked with many local and foreign NGOs, my organization failed to take any action. All I got was a lame apology and I was asked to apologize for instigating this incident. The previous inappropriate actions on the part of the peer bhai were ignored.
I do not handle fools very well. I resigned. As of today, I have been asked to serve my notice period working from home so that the matter can stay hushed and no one finds out about it. I am being portrayed as the culprit, while the peer bhai roams around the office like some kind of a godfather in shorts, exposing his underwear.
As I sit and write this today, I realize how freaky the situation is. I realize that despite being educated, smart and strong, I have been victimized because of my gender. I realize I need to do something. And I will.
Author: Soofia Asad
Editor: Manasi Gopalakrishnan