A victim's story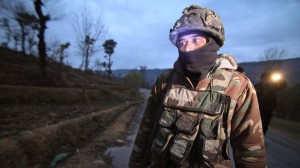 It was a cold night in February 1991 when the Indian army allegedly raped around 50 women of the Kunan-Poshpora villages in Indian-administered Kashmir. In the pretext of a search operation, the army forced out all the men from their homes. The women were then raped all through the night.
Sara begum, one of the rape survivors recalls the horrific experience. These 22 years should have been enough to cure her physical injuries but the wounds on her soul are still fresh and excruciatingly painful.
"Three army men came inside the house and closed the door. They then tore apart my clothes and switched off the lights. They hurled abuses on me and whatever happened to me after that, I pray to God, nothing like that should happen to any women in the world. It is better to die then to experience something like that."
After the incident, Sara was not able to recognize her family members for the next two days. She was in a state of intense trauma and her physical condition was really bad. The night long thrashing and repetitive rapes had made her inert. "I was lying on the floor trampled and I could not feel anything at that moment, I had become immobile. If my husband would not have been there to support me after the terrifying incident, I would have died long ago," she recalls.
Many men tend to become indifferent to their wives after such incidents but Sara's husband stood by her like a pillar and supported her all through. She gives all the credit of her recovery to her husband.
Sara's husband Abdul Ahad is a local laborer earning a meager income for her family. Together with all the other men of the village, he too was taken out of his home along with his eight-year-old son. All the men were kept outside in the freezing night and were beaten ruthlessly.
In the morning, when the mayhem ended and the army let them go, all the men rushed to their families. Sara's husband also rushed to her. Soon after the incident Sara began to show signs of serious illness. She was diagnosed with uterine infection for which she underwent an operation two years ago. She has been under treatment since the past two decades and being poor, her husband is hardly able to meets the both ends.
The prolonged treatment and medication has taken a toll on her physical activities. She is not able to do any household chore and remains seated at one place. Sara's son and husband have been taking care of the house, doing the chores like cooking and cleaning.
But Sara is slowly getting back her confidence because of her husband's loving attitude. Sara prays that all the women in world should get a family who not only loves them but also supports them in the most untoward circumstances.
Whatever Sara has lost is irreplaceable but she possesses the most valuable thing in world, her family, which makes her much respected and valued.  Sara is firm in wanting to seek punishment for the culprits.