Search Results for Tag: Fairness Cream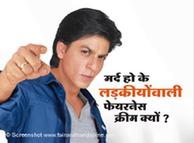 Mirror, mirror on the wall, am I the fairest of them all? This is a question that seems to bother many people in South Asia. Advertisements for skin lightening products are not helping: "Want a better job? Want to find a decent husband? Want to make your parents happy and proud? Then use a fairness cream", is what they profess. Whereas many white women go out of their way to get a tan, many South Asian women think they would appear more attractive and confident if they were two shades lighter.
When Simi Singh was growing up, her mother would forbid her from going outdoors.

read more