Search Results for Tag: Inter-parliamentary Union (IPU)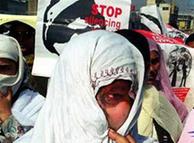 Asian leaders are meeting in New Delhi to discuss why, despite the economic boom and rapid progress, women on their continent still remain victims of violence and the traditional patriarchal mindset.
"Preventing and Responding to Violence against Women and Girls: From Legislation to Effective Enforcement," is a forum, taking place September 15 to 17, where Asian parliamentarians are meeting to discuss challenges faced by women in Asia. The event was organized by the Inter-parliamentary Union (IPU) and the Parliament of India.
In the conference, members of parliament from China, Cambodia, Japan, Afghanistan, Pakistan, India, Indonesia, Iran

read more