Dawa Steven Sherpa: "There is a lot of pressure"
A 15-meter-high climbing wall in the middle of the tourist quarter Thamel in Kathmandu – who would have thought it? "The wall is the nursery for the sport of climbing in Nepal", Dawa Steven Sherpa tells me. "All of the young ambitious Sherpa climbers have trained here." I meet the 32-year-old in the office of "Asian Trekking". Along with his father Ang Tshering Sherpa, Dawa Steven is managing the leading Nepalese expedition operator. I talk with him about this spring season on Everest – after the avalanche in the Khumbu Icefall in 2014 that killed 16 Nepalese climberes and the earthquake in 2015, that triggered an avalanche from the 7000er Pumori that hit Everest Base Camp killing 19 climbers.
Dawa Steven, Asian Trekking once again offers an Eco Everest Expedition this spring. Will it take place?
Yes, it will start from Kathmandu on 6 April. So far we have 14 foreign members and 21 Sherpas but this number will change by the end of the month.
Do you notice that there is a lower demand this year?
There is not a lower demand for Everest, but it's the same people from 2015 and 2014 who are coming back. So the big question is: Will there be the same size of expeditions not this but next year?
We had two years with avalanche accidents and without summit successes from the South. What do you expect for this spring's season?
It's not possible to predict natural disasters. But from the mentality and the motivation, the climbers and the Sherpas as well as the operators feel that this has to be a good year, no matter what we have to get this done because three years in a row might cause permanent damage to the tourism industry, to the reputation of Everest and as a result also to the local and national economy. So the mentality is very much of determination that, whatever the case is this year, expeditions have to be successful. There is a lot of pressure on everybody this year.
Dawa Steven Sherpa: A lot of pressure this year
In the sense that it will decide about the future of climbing Everest from the Nepalese side?
I think already a lot of clients who have been in Nepal in the last two years decided that China will be safer for them. Many people feel that the north side has fewer dangers than the south side. But this is just an opinion. The Chinese side has its own challenges, for example more exposure to high altitude.
The government has extended the validity of the 2015 permits by two years. The decision came rather late – as usual?
As usual. There is no surprise there. In 2014, we were really concerned and stressed because the government took such an amount of time to make their decision on the Everest permits. This year we had this experience of 2014. I said to my clients: Don't worry, the Nepalese government always does things at the last minute. It's unlike in Europe or America. Things are not done in a timely way, they are only done if they have to be done.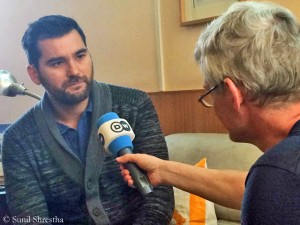 What's about the announced new rules for Everest climbing like age limits, no more permits for heavily disabled climbers and so on. When will they come?
They will not come, at least not now. I think it's important to have criteria, selection processes for who should be on the mountain, not only for climbers, but also for operators, guides and Sherpas so that the mountain is climbed in a safe way. But these rules you mention, that was only a statement of the Tourism Minister in a public event, it had no legal backing, there was no documentation and a follow up on that. But the media picked it up and it did a lot of damage to Nepal's reputation as a destination for climbers.
Dawa Steven Sherpa about new rules on Everest
In my personal opinion, it's a wrong criterion to say that a disabled person is not allowed to climb. I think it is discrimination. I know many disabled climbers who are better climbers than I am. And there is again discrimination from an age perspective. Age is not a factor. You should not make minors climb, I understand that. Children should not be in a dangerous environment. But it's wrong to say that a 60, 70 or 80-year-old is not capable, because it's not up to us. There are people who are in their sixties who are fitter than I am. As long as a doctor says, this person is fine to go to the mountain, that should be a good legal basis for allowing him to climb.
But the Nepal Mountaineering Association is also demanding stricter rules for Everest. Do you think that it's important to regulate it because maybe the wrong people are on the mountain?
There is definitely a need to regulate who goes to the mountain but at the same time we have to be very careful because it is an economic activity, many people depend on it for jobs. So to make it safer, the focus is always on the climbers. There should be better climbers. But in my personal experience I have also noticed that it is normally not the amateur but the expert climbers who get in trouble. They don't know the mountain themselves, many of them are climbers from the Alps and the Andes, but don't really know high altitude. They go with cheap companies and don't take good Sherpa support. Unlike a rock climb or a small peak, Everest is an expedition. It needs skills from different backgrounds, in logistics, in guiding, in climbing of course. It has to be a combination of these skills that has to be good.
But amateur climbers are often very slow and responsible for traffic jams on the key points of the route.
Amateur climbers can be slow but so can expert climbers, because it's not the technical difficulty of Everest that makes people slow, it's the altitude. You could be a fantastic rock climber or a fantastic mountaineer in the Alps in Switzerland, but the moment you hit 8,000 meters your body doesn't work in the same way. So to say that amateur climbers are the ones who slow people down is not necessarily true. But of course the logic is that if you are not technically skilled and you are affected by altitude you are definitely going to slow people down.

The second point is management on the mountain. Traffic jams happen when too many people are at the same place at the same time. That is because of bad management from the government side and bad coordination between the different teams. First we have to look to the weather reports. How many weather windows are we going to have in May, maybe five, four, maybe two. So people can split up accordingly. The second thing is: Weather windows last for two to sometimes five days. So people don't have to go on the same day but can do it one day apart. It can be managed in that way. On a good summer day there are more people on Mont Blanc than on Everest in an entire year. There will be a point where we have to say that's too many people. But in my opinion we haven't reached that point. Let's first manage these people there and the summits, then let's talk about having quotas and so on.
There were some western operators telling that they won't offer Everest expeditions any more due to the competition with Nepalese operators that has turned into some kind of price war. Can you understand them?
Absolutely. But it's not only competition from the Nepali but also from international operators. There are a lot of Nepali operators who are offering it much cheaper. In the past it used to be that Nepali companies did not have the skills to organize and lead expeditions. Now we do. Now we have Nepali climbers who are internationally certified guides. There are companies who are very capable, have the same infrastructure, assets and manpower as the western companies. Yet being local, their overheads are less and so they are able to offer a cheaper price. So the western operators are losing their clients who are looking for price to those companies. At the same time there are a lot of foreign climbers who get a lot of satisfaction and peace of mind by going with a company of their own country. In those cases, people are less concerned about prize and will then look for international operators who are more expensive but have a better reputation. So what you will see is that international operators who are sort of in the middle are losing out their cheap clients to the Nepali companies and the expensive clients to the more expensive international companies. That's why they are not able to compete now.
Would you say that a new era is coming where only the Nepalese operators will manage expeditions on Everest?
There is a new era of Nepali operators coming, yes, but there is still a niche for the international competitors and only the best of them will survive. Eventually Nepali operators will overtake the western companies because they are getting better every year. It could be in the next five years or ten years. But it's not to say that international operators are not important. What we see is that western companies who used to organize the expeditions themselves in Nepal are now sending their clients to Nepali operators. They do the marketing and the Nepali companies do the operations. Business keeps changing. If you can't adept, you are not going to survive.
Dawa Steven Sherpa: New era of operating expedition
Some experts expect that there will be only high end expeditions on the one hand and discount expeditions on the other hand and nothing in between. Do you share this opinion?
I don't think so. Everything is on a spectrum. When a professional climber comes to us and says, I only need one cook and a tent in Base Camp, everything else I will do myself, then I will organize this expedition accordingly. If I have a lawyer from Hongkong who has a lot of money to spend and he wants three Sherpas and everything to be done for him and he doesn't want to carry a backpack, I also have a market for that. But most people fall in between. I think there will always be a spectrum. In the past, it used to be that Nepalese were at the bottom providing the cheapest expeditions. And in the middle and at the top were the western operators. Now the bottom and the middleground are taken by the Nepalese, and only the more expensive is provided by the Westerners. It's only a matter of time before the Nepalese also take over the western operators' market share.
What do you think about these luxury expeditions: Acclimatizing in oxygen tents in lower regions, flying by helicopter to Base Camp, only food from western countries, one client, one Sherpa and so on? Can you live with this kind of expeditions?
Absolutely. I think there is a place for everyone. When we talk about climbing philosophy, the big problem is that we are looking at it from a western perspective where climbing is a leisure, a philosophical exercise. People talk about the right and the wrong way to do climbing. But in Nepal climbing is an economic activity. Every climber provides jobs for Sherpas, cooks, porters, farmers. So it's a completely different way that we see climbing. Why would Nepal want to sell mountaineering to foreigners if it is not going to benefit from it? So you have to be very careful. Sherpas are very quickly going to say: If we don't get jobs on the mountain, why should these foreigners come here and climb on our holy mountains? When a westerner says, this is against the philosophy of mountaineering, it's against the western philosophy, but is it also against the Nepali philosophy? Nobody ever asks that.  
Dawa Steven Sherpa: Different kinds of climbing philosophies
Date
29. March 2016 | 16:21