Climbers' crowdfunding for winter expeditions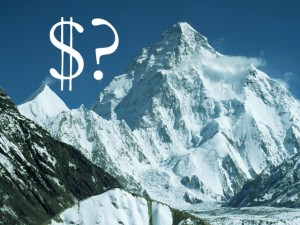 Is it just a coincidence or already a trend? The K 2 winter expedition of Denis Urubko and Italian climber Daniele Nardi's to Nanga Parbat use crowdfunding on the Internet to get more money for the expedition budget. Anyone who had ever to write his fingers to the bone to raise money for an expedition, will understand that now climbers too choose this form of financing that was born in the digital age.
Money yes, permit no
The native Kazakh Denis Urubko, who is now a Russian citizen, wants to climb the 8611-meter-high K 2, the second highest mountain in the world, for the first time in winter, in Alpine style, on a partially new route from the Chinese north side of the mountain, in a team with the Polish climber Adam Bielecki and the Basque Alex Txikon. Denis' a month long crowdfunding is completed.  The result: 11,205 US $, three quarters of the target sum of 15,000 dollars. "The biggest value for me is your trust and faith. It is more important than any money", Urubko said thanking the sponsors. "Faith not only in our team and project, but in people's ability and desire for new discoveries!"  The financial gap is closed, another has opened, which is likely to be harder to close – five days before the scheduled departure. "Chinese authorities denied us. We have no permit", Denis wrote on Facebook.
Final sprint before Christmas?
K 2 is one of two eight-thousanders which have so far resisted all attempts of winter ascents. The other is the 8125-meter-high Nanga Parbat in Pakistan. There, the Pole Tomasz Mackiewicz has already completed his acclimatization. Tomek spends the fifth winter in a row on that mountain, this time he wants to climb it solo. He shares the base camp on the Diamir side with the Italian Daniele Nardi who forms a team with the Frenchwoman Elisabeth Revol as he did before on Nanga Parbat in winter 2013.
Daniele's crowdfunding on the Internet will continue for four more days, so far it has run with moderate success: 1,362 € (until 17 December), not even ten percent of the planned total of 15,000 €. Nardi can only hope for a pre-Christmas final sprint of donations. After all, Daniele does not have to worry about the permit.
Update, 19 December: Meanwhile, the three climbers who want to try K 2 in winter assume that the start of the expedition will be postponed by two or three weeks due to the problems of getting a permit by the Chinese authorities.
Date
17. December 2014 | 16:50