Read: "Seven Steps from Snowdon to Everest"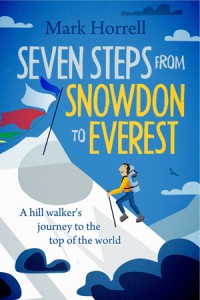 Maybe I like this book so much because there are many parallels between Mark Horrell's and my own mountain "career". We both started as hill walkers, anything but free from fear of great height. Like me, Mark visited Nepal for the first time in 2002 and was as fascinated, not to say infected, by the Himalayas and the people living there as I was then. We both worked up, getting more experienced, reaching higher altitudes, had to cope with setbacks until we finally fulfilled our dreams – both far away from being exceptional climbers. In 2014, I was among the first climbers on 7,129 m high Kokodak Dome in western China, I would never have thought possible twelve years before – just as little as Mark could not imagine in 2002 becoming an Everest summiter within ten years. But he really did it. Unlike me, he after a while completely changed his way of life, taking only temporary jobs to have the opportunity to live his new passion for going on expeditions.
Flopped onto the summit
In "Seven steps from Snowdon to Everest" Mark describes his life's journey from the time when 1,085 m high Snowdon in Wales was the highest mountain which he had climbed, until his ultimate seventh step on 19 May 2012 when he reached the top of the world at 8,850 m, scaling Everest from the Tibetan north side. In between he trekked with a group of elderly ladies in Nepal, climbed Kilimanjaro and "was wheezing like a cat with a hairball as I flopped onto the summit" of 6,476 m high Mera Peak in Nepal. He climbed Aconcagua, tried in vain to scale three eight-thousanders until he succeeded on Manaslu and afterwards turned to the "Big One". He joined a commercial Everest expedition and reached the summit along with Chongba Sherpa who was accompanying him. Mark was the 318th Brit on the roof of the world.
You will not only learn a lot about him but also about the history of high altitude mountaineering in the Himalayas and Karakoram. Horrell always remains honest while describing his climbs, which is not something to be taken for granted among mountaineers who tend to exaggerate – or leave out unpleasant truths. Like the support of Sherpas during their climbs. Mark admits that it was "as likely for me to climb Everest without them as it was for England to win the World Cup on a penalty shoot out".
Master of comparison
Not for nothing Mark calls the Everest satire "The Ascent of Rum Doodle" by William E. Bowman his favourite mountain book. With just as much humor he tells his own story and proves that he is also able to laugh about himself. The Briton is a master of comparison and doesn't care about political correctness. Here's another of my favorites: "We had as much chance of getting up an 8,000er as Wayne Rooney had of winning Mastermind". For sure, there are people who don't share his sense of humor or think he's overdoing a bit using so many comparisons. But I don't belong to these critics. I really enjoyed Mark's book not only because of his perspective as just a normal guy loving his mountain trips, but also because he made me smile so often while reading his book. Or in others words: I enjoyed it like an elephant drinking his first pint of beer after a bloody hot day in the desert. 😉
P.S. Mark and I have another thing in common: We both write mountaineering blogs. I appreciate Mark's and if you don't know it yet, you should visit it and will certainly like it too.
Date
4. February 2016 | 9:26