Blockade in Nepal declared ended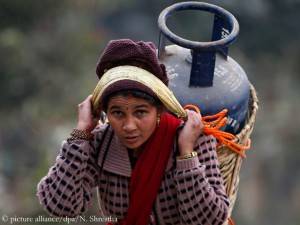 Two reasons to celebrate in Nepal: Just in time for Losar, the Tibetan New Year, an end of the supply crisis in the Himalayan state is on the horizon. After more than four months, leaders of the Madhesi ethnic group declared their blockade of the border with India ended. The Madhesi, who live in southern Nepal, felt disadvantaged by the country's new constitution. Meanwhile, it has been changed in some respects. The blockade had paralyzed Nepal. The reconstruction work after the earthquake in spring 2015 had come to a virtual standstill. Fuel and building materials as well as food and medicine had run short because the imports from India had been staying away. Since the weekend, tank trucks are rolling towards Kathmandu again.
Many cancellations
The trekking and expedition operators will be delighted too. Due to the blockade, they had been forced in some cases to organize fuel, flights and food for their clients even on the black market. The spring season is just around the corner – high time for the Nepalese Government to accelerate: The official decision to extend the validity of the 2015 climbing permits is still missing. After the earthquake, climbers from all over the world had prematurely terminated their expeditions. "I had seven expeditions of around 100 mountaineers last year", Tashi Lhakpa Sherpa, executive director of the Nepalese operator Seven Summits treks, told the website Republica. "Around 50 percent of them have already cancelled their Nepal visit, saying that they won't have sufficient time for preparation even if the permit is extended."
Even last year, the Government of Nepal was pretty relaxed in this matter. Only when most climbers were already in the country, they had announced that the 2014 permits remained valid. Even two years ago, the season on Mount Everest had been over before it really began, after an avalanche in Khumbu Icefall had killed 16 Nepalese climbers.
Date
9. February 2016 | 14:33