Still no rescue of Gukov possible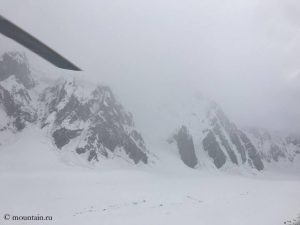 The drama on Latok I continues. Another day has passed on which Alexander Gukov is trapped on the North Ridge of the seven-thousander in the Karakoram without any help. Like throughout the weekend, thick clouds today prevented rescue helicopters from approaching the site at around 6,200 meters, where the 42-year-old Russian climber has been staying since Wednesday last week – without food or equipment. The helicopters took off, but returned without getting close to Gukov. "There will be no further attempts today," mountain.ru reported. "The weather is getting worse." It's like bewitched. "Imagine everything is clear, only the Latok is completely in clouds," said Viktor Koval from the base camp. "The pilots hardly managed to fly away."
Russian specialists on their way
With the Slovenians Ales Cesen and Luka Strazar as well as the British Tom Livingstone, three other top climbers have arrived at Latok I base camp. The option of taking Gukov off the mountain by using a long line from the helicopter or at least supplying him with food and material still appears to be the most promising. It'd have to clear up for a while, though. Meanwhile, a Russian helicopter crew has set off for Pakistan, that has a great deal of experience with long line rescues. The two Russians are to support the Pakistani rescue forces.
No contact since Saturday
Because the battery of Gukov's satellite phone has been exhausted since Saturday, there is no longer any contact with the climber. Alexander has been on the mountain for 18 days now. As reported, his 26-year-old rope partner Sergey Glazunov fell to his death on Tuesday last week while abseiling. The two Russians had tried to climb the North Ridge of Latok I up to the 7,145-meter-high summit for the first time. Apparently they turned back at an altitude of almost 7,000 meters. Since the legendary first attempt in 1978 by the Americans Jeff and George Henry Lowe, Michael Kennedy and Jim Donini, who were forced back by a storm about 150 meters below the summit, around 30 attempts to master the route failed.
Date
30. July 2018 | 15:20