Mountain bikers and runners needed for study on Kibo
According to the statistics, Kilimanjaro is one of the top mountain destinations in the world. Every year tens of thousands of people tackle the highest mountain in Africa. In 2016, reportedly, more than 30,000 visitors have reached the highest point at 5,895 meters. The "Kibo" is said to be a trekking mountain, several easy routes lead to the summit. Only during the rainy seasons in April/May and October/November the tourist flow decreases a bit. Many operators offer hikes to the roof of Africa as a week trip – this short stay also ensures that the mountain is so popular. However, it is less known that every year several hundred tourists suffering seriously from high altitude sickness have to be rescued from Kilimanjaro, and about two dozens of them die, in some years even significantly more.
4000 meters up in a few days
The Tanzanian government keeps the exact number of deaths under cover. If they became known, this could damage the booming mountain tourism. Many people simply underestimate the risk of getting altitude-sick on Kibo – though it's actually obvious: After all, the summit aspirants have to overcome more than 4,000 meters in altitude within a few days. The physician Christian Kreisel from the University Hospital of Gießen and Marburg now wants to develop a faster and reliable diagnosis of high altitude sickness – with a study on Kilimanjaro. The tests have so far been too coarse meshed, says the 37-year-old, who has climbed the mountain already six times: "I want to reduce the mesh size of the sieve."
Numerous tests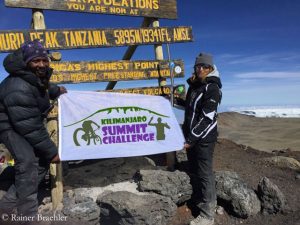 Kreisel is looking for 25 athletes who participate in the study – mountain bikers or mountain runners. From 24 September to 1 October 2017, they are to climb the highest peak in Africa. A three-day training camp is planned at 3,700 meters, an overnight stay at 4,800 meters and a summit attempt. Before and during the trip, numerous medical and also psychological tests will be made. At the same time, the athletes receive data on their performance at high altitude, which should also be useful for their future mountain sports projects.
"Up to now, pursing sport seriously on a mountain like Kilimanjaro was a dream limited to just a few elite athletes," says Rainer Braehler, organizer of the "Kilimanjaro Summit Challenge", "but with this study, ambitious amateur athletes can now test their limits at very high altitudes – with the reassurance of full medical supervision". Those who are interested in taking part, find the details and can apply on the website of the project.
Date
7. April 2017 | 9:21