Search Results for Tag: Rodolphe Popier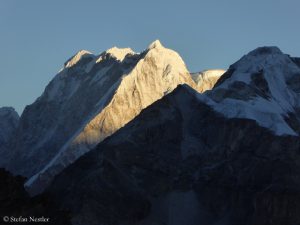 Santa Claus has brought an early Christmas gift for mountain lovers from all over the world. Since today, the new version of the Himalayan Database, the electronic "Bible of Expedition Mountaineering in Nepal", can be downloaded for free. Till now a CD ROM had to be bought to use the archive. Initially, the possibility to free download this extensive data collection should have been available already in November. However, there was a slight delay because the American Richard Salisbury, who added the data of the 2017 spring season, still had to wait for information on the Sherpas' summit successes.

read more
Date
5. December 2017 | 13:34
And it was a first ascent at all! On 13 November Ines Papert was the first person who set foot on the 6718-meter-high Pig Pherado Shar in Nepal, also known as Likhu Chuli I. Billi Bierling, staff member of the legendary Himalayan chronicler Elizabeth Hawley, writes me that the Frenchwoman Cecile Barbezat and Nawang Dorje Sherpa on 21 October 1960 were at the top of Likhu Chuli II, "which conversely means that Ines made the first ascent of Likhu Chuli I." This was the result of a research that her French colleague Rodolphe Popier made in the library of the French Alpine Club (Club Alpin Français).

read more
Date
22. November 2013 | 13:16