56 Kilometers turn strangers into friends
This is the second guest post as part of our series accompanying the WWF Youth Bike Tour this summer. Today Tamara Nausner tells us about her day on the road – and that 56 kilometers on a bike need not be the most taxing thing in a day of cycling…
My day starts very early in the morning. Too early. But today there is no time to be tired or lazy. So I'm packing all my luggage onto my bike and ride to the train station. It is so quiet and peaceful at this time in the morning.
Being a little late, my train eventually is on its way to Oberwesel – the starting point for today's stage of the WWF Youth cycling tour.
What I learn along my  journey is that there are no elevators at small stations, so I have to carry my bike up and down the stairs quite a few times. Not that easy with all the luggage.
At half past nine I arrive in the town, which is is located some 80 kilometers West of Frankfurt. I am very excited to meet the two cyclists, who will join me for the tour. And they don't keep me waiting. I spot them immediately – they are wearing the vests carrying the WWF logo. Then they  hand me one, too. Time for a picture of all of us! There is not much around; we eventually opt for an old ruin as a backdrop for our photo.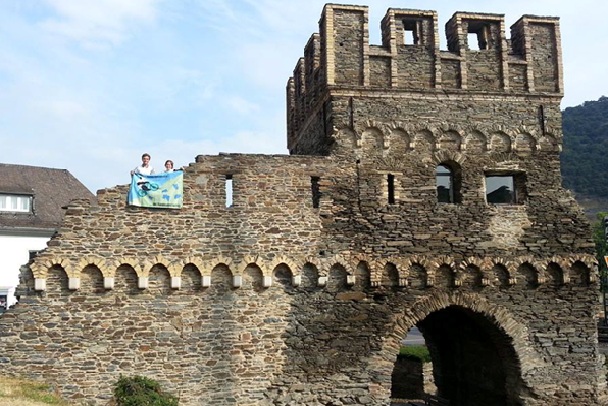 At last we start day 20 of our tour, which today will bring us to the city of Wiesbaden. But we are not the only ones on the road, framed by vineyards on one side and the river Rhine on the other. Unfortunately there are cars too. So after a while we decide to take a route through the vineyards. There are no other cyclists and no cars. Only a tractor. But very quickly we regret this idea because our path is steeply rising. Eventually we return to our previous route.
The weather is perfect: warm but not too hot, clouds and the sun take it in turns. We enjoy the journey. While riding we get to talk a bit, about everything, and I realize how nice it is to talk to people who have similar interests – protecting the environment being a very big one.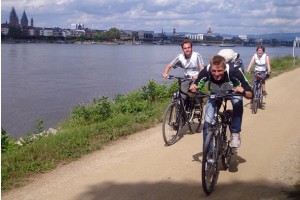 Our destination is getting closer. But before starting off on the final stretch we decide to take a break and have some lunch. That is when I notice for the first time just how tired I am. The rest of the trip is quite tough. Finally we arrive at the train station of Wiesbaden. But even after 56 kilometers on the bike there is no rest for us yet. A photographer is welcoming us, asks for our names and wants to take a couple of pictures. Then, he leaves.
A final short ride along a coarse gravel path to our night quarters turns out to be almost the hardest part of our journey today. But eventually we get there.
The next morning at 10am we are ready for the next leg of our tour. We take a picture and are on our way – to Frankfurt.