Search Results for Tag: bicycle tour
All routes headed for Frankfurt
This is the third guest post as part of our series accompanying the WWF Youth Bike Tour this summer. Still having sore muscles from the previous day's leg Tamara Nausner and her fellow cyclists lost little time to ride on to Frankfurt. It was the last stretch for our guest blogger.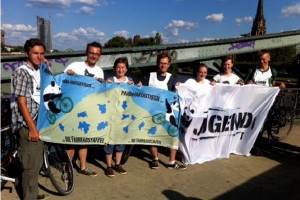 Today is a very special day. The bike tour really are two – one that traverses the country passing through the Eastern states, the other following a route in the West. But both will be merging at the end of today's stretch. Filled with anticipation we are riding out of Wiesbaden, although our bodies hurt quite a bit. But: no pain, no gain. And after a while I get used to it and can enjoy the journey again along the river Main. I like the route more than the one yesterday because for the most part there is no road and no cars. At one point we even have an abandoned motorway all to ourselves. Some of us are cycling as fast as they can. We are all having fun.
We arrive at Frankfurt quite early. The riders from the Eastern route inform us that they will not be here for another few hours. To pass the time we treat ourselves to ice-cream, play cards and relax in the grass near the Main. Eventually the others arrive. Together we take a picture of the banners of the two teams now united.
For me and some of the others the bicycle relay is over now but the rest will ride on in the spirit of climate-friendly travel. I am so glad I took part and hope that there will be another tour next year. And I also hope that we could help encourage people to think about what they can do to protect our environment.
56 Kilometers turn strangers into friends
This is the second guest post as part of our series accompanying the WWF Youth Bike Tour this summer. Today Tamara Nausner tells us about her day on the road – and that 56 kilometers on a bike need not be the most taxing thing in a day of cycling…
My day starts very early in the morning. Too early. But today there is no time to be tired or lazy. So I'm packing all my luggage onto my bike and ride to the train station. It is so quiet and peaceful at this time in the morning.
Being a little late, my train eventually is on its way to Oberwesel – the starting point for today's stage of the WWF Youth cycling tour.
What I learn along my  journey is that there are no elevators at small stations, so I have to carry my bike up and down the stairs quite a few times. Not that easy with all the luggage.
At half past nine I arrive in the town, which is is located some 80 kilometers West of Frankfurt. I am very excited to meet the two cyclists, who will join me for the tour. And they don't keep me waiting. I spot them immediately – they are wearing the vests carrying the WWF logo. Then they  hand me one, too. Time for a picture of all of us! There is not much around; we eventually opt for an old ruin as a backdrop for our photo.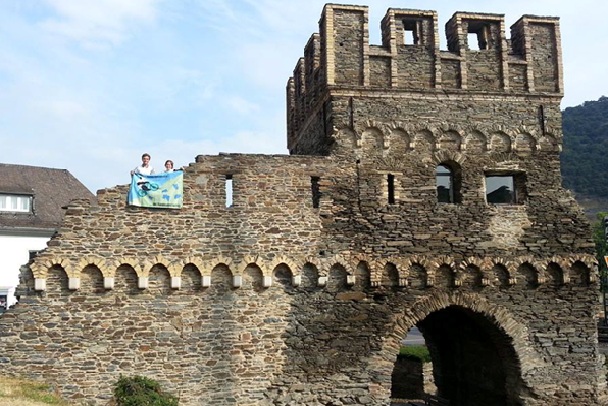 At last we start day 20 of our tour, which today will bring us to the city of Wiesbaden. But we are not the only ones on the road, framed by vineyards on one side and the river Rhine on the other. Unfortunately there are cars too. So after a while we decide to take a route through the vineyards. There are no other cyclists and no cars. Only a tractor. But very quickly we regret this idea because our path is steeply rising. Eventually we return to our previous route.
The weather is perfect: warm but not too hot, clouds and the sun take it in turns. We enjoy the journey. While riding we get to talk a bit, about everything, and I realize how nice it is to talk to people who have similar interests – protecting the environment being a very big one.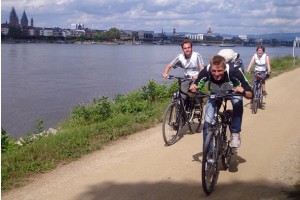 Our destination is getting closer. But before starting off on the final stretch we decide to take a break and have some lunch. That is when I notice for the first time just how tired I am. The rest of the trip is quite tough. Finally we arrive at the train station of Wiesbaden. But even after 56 kilometers on the bike there is no rest for us yet. A photographer is welcoming us, asks for our names and wants to take a couple of pictures. Then, he leaves.
A final short ride along a coarse gravel path to our night quarters turns out to be almost the hardest part of our journey today. But eventually we get there.
The next morning at 10am we are ready for the next leg of our tour. We take a picture and are on our way – to Frankfurt.
From gray to green – biking through Germany's former industrial heartland
In the second part of our bike blog, Maurice Jurke, who's part of the WWF's bike tour across Germany, takes up the story as he encounters some strenuous uphill stretches (the good thing about those, as he points out, is rolling down), sweats it out in the summer heat and cycles through Germany's former coal-fired industrial heartland which has now been rejuvenated into a green area.
It's 3:20 pm and I am sitting in a small café in the inner city of Hamm in the western German state of North-Rhine Westphalia. It's quite well known in Germany and so I expected a big town with and a landscape dominated by the color gray. But as so often this year, I was wrong. Instead, I cycled on a wonderful route from Gütersloh to Hamm.
During the day, I barely rode on streets since a large part of the stretch wound through fields and large forests. I began at 10:15 as usual and I had hoped to arrive after 60 kilometers and 3 1/2 hours. But again I was proven wrong. Literally. I took some wrong turns, and so I had to ride 70 kilometers over several mountains, and arrived after 4 hours. Still a good number, but I was not very happy with my day. It was too hot and I am really thankful for my ice cream and my ice-cooled coke which I'm sipping at the moment. Still, it was a good day, it just could have been better. Well, I hope you had a perfect day. Me? I'm going to take a bath to cool down some more.
Let' s go gray…uhh I mean green
Another day of biking through Germany and the direction is still south-west. From Hamm, we passed Dortmund and Duisburg, and now we're visiting Langengeld, a small village at the border of Düsseldorf.
In the last three days, we've cycled past plenty of places in Germany's old industrial heartland in the west. It's called the Rhein- and Ruhrgebiet in German. There you'll find big industrial companies and lots of mines and old coal pits. As Germany tries to change its energy policy, increasingly moving away from fossil fuels and towards renewable energy, coal is no longer a big player.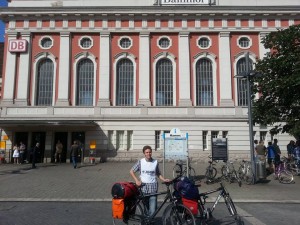 So you'll find many old, abandoned and derelict coal mines. In some of these places, city authorities are trying to transform them into old people's homes. Once gray and polluting, these unpopular mines are being upcycled and are a jewel in the inner cities.
That means almost our entire bike route now goes through parks or forests, occasionally cut by some highways or an inner city. Germany, in this regard, has developed well, we think.
And here's a personal question: what do you think of this development in Germany's former industrial areas? Have the cities been successful? Would you want to live in this former gray area, which has now painted itself in green?