Corruption and Climate Change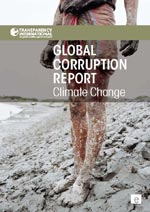 We've got another study to share with you, but this time it's a new report from Transparency International. The watchdog organization released its 'Global Corruption: Climate Change' report on Saturday and they had an important message: don't let corruption get in the way of addressing climate change.
According to Transparency International, several countries need better oversight when it comes to climate projects to make sure funds are used the right way. And that's especially important now because experts say we're likely to see $700 billion devoted to climate change investment by the year 2020. The report also showed that the carbon trading markets and forestry industry are especially prone to corruption.
Tell us a little more about your country–do you think climate change funds are being used appropriately?