Search Results for Tag: bangladesh
Climate champ – 'we must stop being a slave to consumption'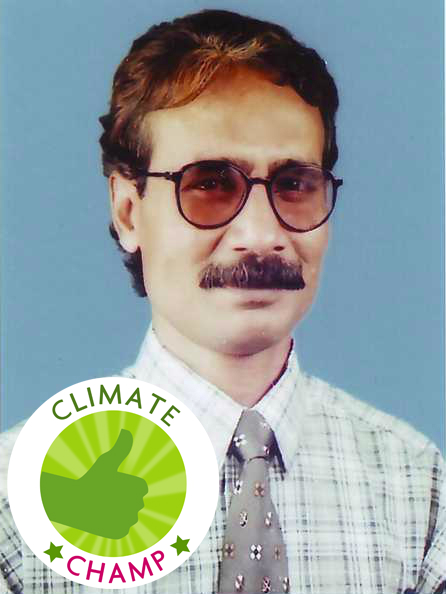 Do you feel responsible for our future? Are you tired of waiting for a breakthrough at climate conferences? If you are already taking action yourself, you are our ClimateChamp and we want to get to know you! Answer our questionnaire to become a part of our new blog series, take your chance to be nominated as a Climate Champ.
What is your name? How old are you? And where do you live?
My name is SM Farid Uddin Akhter Farid. I was born on January 1, 1964 in Bangladesh.
How does climate change affect your everyday life / your community?
Nature's behaviour has been regularly irregular and erratic. The basic securities of food, water, energy, livelihood and human life are highly threatened. And my country, Bangladesh, has been identified as the most vulnerable by scientists and policy makers across the world.
What trigger event led you to start fighting climate change?
No special event. Just the considered opinion that if we want peace for all, if we want to ensure rights for all, everybody has to save a bit, reserve, preserve, rejuvenate and conserve resources. Therefore we need a significant change in mindset, behaviour and attitude if we want to combat climate crisis, reduce risk and poverty and save biodiversity.
How exactly do you fight climate change?
I'm part of the Sasrai movement. The movement is aimed at spurring each individual, family, community, institution and organization to combat climate change and global warming and think about issues such as food, fuel, water security, poverty, disaster, waste, ecosystems and biodiversity etc.. Even small changes in our daily behaviour can help prevent greenhouse gas emissions without affecting our quality of life. In fact, they can also help save money. The Sasrai-movement policy commits to save resources and to reduce solid waste in our daily living – no matter how small it is.
What do you say to climate change deniers?
The world is heading for irreversible and potential catastrophic climate change. Just think about the repeated natural disasters in Australia, Africa, New Zealand, Brazil, Pakistan, Japan, Iran, Myanmar, Thailand, USA, Russia and Indonesia. Remember what superstorm Sandy did to the Caribbean and North America? Nature rebelled! It didn't discriminate between a rich super power or a poor nation. So each one of us must ask ourselves "how could I be consuming less?" We must stop being a slave to consumption.
Worst case scenario: What do you think your city will look like 10 years from now, if no action is taken to fight climate change?
There will be excessive heat and cold in the cities, lack of safe water and water logging due to sudden excessive downpours, especially in the region I live. But the Sasrai movement's main consideration is tomorrow, the future generation who are not responsible for destroying the earth's resources. We believe in the potential of communities to solve their own problems and adapt to climate changes with the help of resources they own right now.
Best case scenario: What do you think your city will look like 10 years from now if more and more action is taken to fight climate change?
Hopefully, there will be no more lack of soft water, no more land slides, less suffering among low income people and no more flooding in parts of my city.
Short and simple: What do you demand from your government as far as climate change is concerned?
To raise mass awareness, to wish peace for all and to ensure rights for all. Everybody must save a bit, reserve, preserve, rejuvenate and conserve resources. It would be great if they had a hand-written Sasrai movement poster in every government building.
How can interested people get involved in your project?
Since 2004, we have been trying to bring about a significant change in mindsets, behaviour and attitudes among all regarding use and abuse of resources. We promote austerity aimed at curbing hunger, poverty, water scarcity and environmental degradation. We are in the process of strengthening programs in educational institutions aimed at bringing significant behavioural and attitudinal change among children.