Search Results for Tag: camera
Facebook of the forests
Put up a camera. Anywhere. You will be surprised by just how badly everyone wants to be on telly whenever they see a lens pointed at them. It's why many kids think web cams are more important in a computer than a CPU, and also a reason why Big Brother revolutionized trash TV and Facebook made Mark Zuckerberg a Billionaire.
The urge to exhibit one's private persona seems so deeply ingrained in the human psyche, that you begin to wonder if it's an evolutionary trait also present in other species. And indeed it is. Forest animals love the camera.  The TEAM network has put up camera traps in forests across the globe to snap photos of  animal wild life. The experts of TEAM (or, more accurately and less sexy "Tropical Ecology Assessment and Monitoring") are now celebrating the 1 millionth photo taken.
TEAM makes the photos available to researchers and the public as "real-time" data to help track how biodiversity evolves.  And, of course, also to show how wild life is impacted by changes in their environment – be it deforestation or warming temperatures. The primates shown below are an example of the quite entertaining footage collected by the scientists:

The TEAM network still has some way to go: With a million plus photos they are way behind Facebook – that other network providing real time data on a not so different type of primate: you and me.
Face to face with the tiger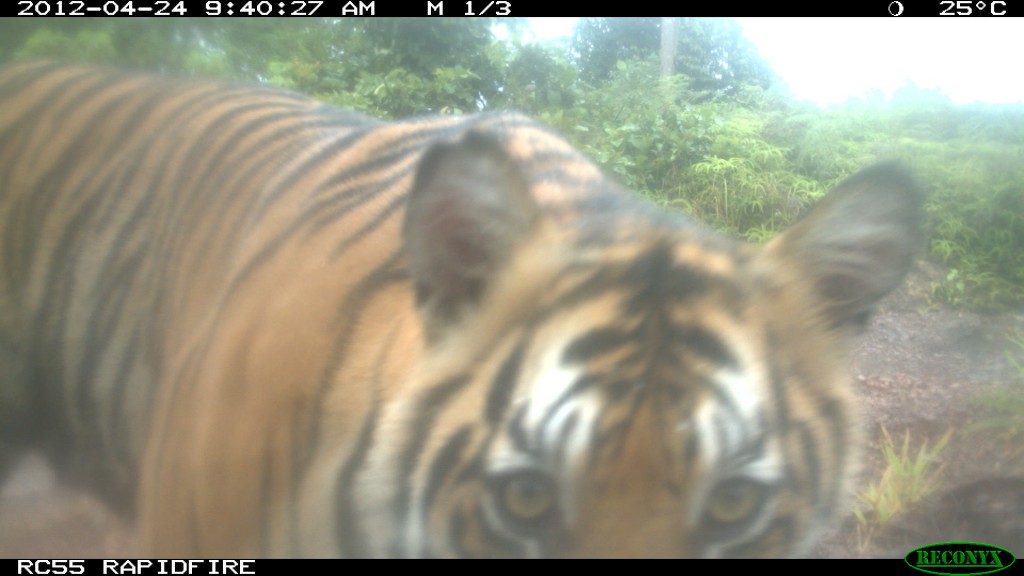 Dieter Hoffmann of Harapan Rainforest knows what a reporter likes to see. "Are you interested in some fresh footprints or photos of a Sumatran tiger," he asked. Of course I am! Harapan Rainforest has installed a few camera traps in the forest. Sometimes monkeys are fooling around with cameras, because they have learned that there's something behind the lens. But every now and then a Sumatran tiger crosses one of these cameras and sneeks a peek.
We walked to one of those cameras. And yes, there were footprints. I hardly knew what to do with my emotions. The prints were fresh, Dieter said. There was a tiger right here, just a few hours ago. My first thought: "Brilliant!" I'm a reporter, I'm always looking for a stunning picture. But right after that first thought my instincts came in: "Are you crazy?!" I thought. What on earth am I doing here on the favorite path of a real Tiger? That's dangerous! I don't want to end up in a tiger's stomach!
But Axel, my camera-man, could hardly believe his luck and headed forward into the jungle  as if looking for nothing but his pet dog.
To make a long story short: We didn't meet a tiger and we are still not eaten by a tiger. But the photos of the camera trap revealed what really happend: At 9.40 in the morning a female Sumatran tiger passed the camera. We followed – in a safe distance – close to five a clock in the afternoon.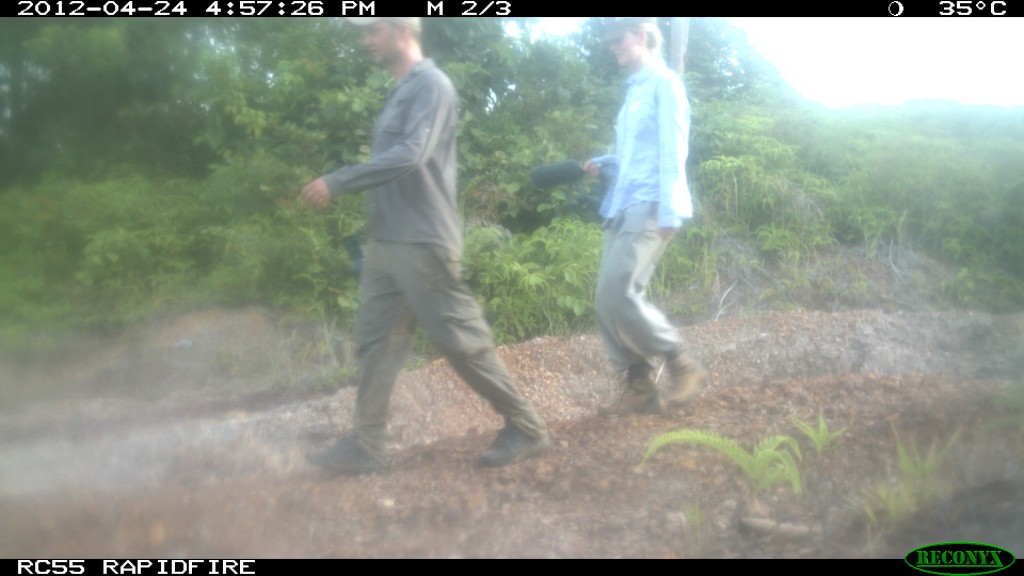 Chopper Madness
Juan Zacarias always carries a camera with him. He keeps his eyes open for the next great shot and is continuously taking pictures. I was glad to have him on board for shooting my report at a sewage plant in Nicaragua. Out of the blue we got a chance to take a helicopter flight over the area with the plant and the amazing lakes surrounding it. Juan was thrilled. The weather was great when we took off. The chopper took us over Lake Managua which is bigger than we imagined. Heading south-west, we flew along Rio Tipitatpa, where Lake Managua connects with Lake Nicaragua in what is the largest contiguous reservoir for drinking water in Central America. It could have been a perfect day, but as the flight progressed the wind got stronger. Too strong for some of us. Sick bags became very handy. Finally, with solid ground under our feet again, I thought to myself, that I liked the view very much – but next time I would definitely prefer a windless day.