Search Results for Tag: election
India poll workers brave wild animals to reach voters
Braving hungry crocodiles, Asiatic lions, wild elephants and traveling in camel caravans– sound like an Indiana Jones movie? It's what some election officials in India have faced in recent days trying to do their job.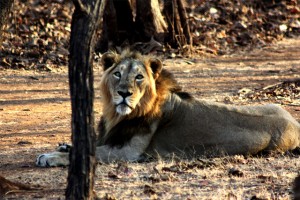 This Asiatic lion, along with other wildlife, awaited an election team in the Gir forest in Gujarat (Photo credit: CC BY 2.0: Shaunak Modi)
Pulling off a parliamentary election in the world's largest democracy is never an easy task. Apart from the mind-boggling logistics this time (814 million eligible voters; over 930,000 polling stations; nearly 6 million poll workers), India's physical size and topographical diversity trigger an obstacle course for some poll workers. From snow-bound mountains in the northern Himalayas, the deserts of western Rajasthan, tropical jungles to tiny remote islands in the south, some poll officials have to navigate a variety of routes to ensure citizens can cast their votes. And, a few election officials have also had to brave the teeming wildlife that comes with the terrain.
One newspaper report, along with a video, detailed how election officials on the Andaman and Nicobar archipelago in the Indian Ocean – home to  more than 550 islands, many of them heavily forested – recently got into canoes and undertook a three-hour journey on a river infested with  crocodiles. Their job was to get to a remote village along with their two voting machines and set up a polling booth. The mission, though harrowing, was eventually successful. But election officer, Biswajit Roy, a veteran of national polls, told the Wall Street Journal: "In all my years, this by far was the toughest."
There were also reports of officials trudging through tropical jungles inhabited by snakes and traveling in camel caravans to reach settlements in the Thar desert in northwestern Rajasthan. Big animals were also very much on the mind of a polling team that traveled to the Gir forest in the western state of Gujarat – home to the majestic Asiatic lion – to cater to a lone voter in a hamlet there. Election rules in India say there must be a polling station within two kilometers of every residential community.
And, earlier this month, election officials in the northeastern state of Meghalaya had to contend with a herd of wild elephants that blocked the way to two polling stations. They were eventually chased away into the jungle by forest rangers.
Will there be a democracy in Uganda?
This week there are national elections in Uganda. Many people I asked about the elections told me that democracy does not work in Uganda. "What we need is a new strong dictator", a woman told me. "The people just make the wrong decisions, they don´t know what is good for the country". I travelled to the countryside near the border to the Congo. Many people in Uganda live in small villages like the one you see in the video above. Many of them are disappointed – they don't have jobs. For the past two years there has also been an extreme drought. The crime rate is rising fast. The people that I asked in the villages hope for a law-and-order president. Many say that Som daid Idi Amin, the Ugandan dictator from the 1970s was not so bad. Having the freedom and democracy movements in northern Africa in mind I was kind of shocked and surprised. Are the people expecting demonstrations and riots during the election week? 'Yes', many said. Because they are quite sure that the results of the elections are going to be rigged. I'm wondering: What do they want? Free and democratic elections and a new dictator? What are they going to demonstrate for?