Search Results for Tag: enery
The Best in Sustainable Innovation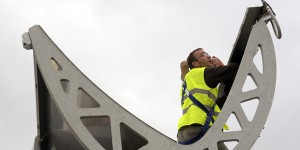 We told you about the EU Sustainable Energy Week that took place April 11th-15th and all the events that took place, right? Well, one of the last events of the week was the Sustainable Energy Europe Awards presentation. The prizes honor the best of the best in sustainable energy innovation in Europe. This year, 6 different projects were tapped as the top in their field.
The "Solar Decathlon Europe" from Madrid's Autonomous University won the award for best communication. It pits universities from around the world against each other as they compete to build the best and most innovative energy self-sufficient houses. "The Strawberry Tree" from Serbia won the award for the best consuming project. It involves a public solar-powered cell phone charging station in central Belgrade that also raises awareness about environmental issues and educates people about renewable energy sources.
One of the most active projects to be honored was the "Cycling City Councillors" (or Stadtradeln) from right here in Germany! This project, which won the traveling award, is as easy as it sounds: it focuses on promoting an easy, reliable and eco-friendly mode of transportation–the bicycle. Local leaders team up with citizens to go car-free and emissions-free, and it's been a huge success so far.
You can read about the rest of the Sustainable Energy Europe Awards here. Which one do you like the best? Or do you know of a cool, award-worthy project that wasn't honored?