Search Results for Tag: filming
Dossier: The business of biomass
Biomass is derived from different plant-based organic materials. That includes so-called energy crops such as oil palms, soya or sugarcane as well as plant, household and industrial waste. Biomass can used in a variety of ways – for heating purposes, to generate electricity or to produce biofuels for vehicles and even airplanes. – Everything you ever wanted to know about biomass is now available in the latest GLOBAL IDEAS dossier! Read articles, see photos and watch our reports on the issue right here: http://bit.ly/GI_dossierBMEN
Recycling in Bali – Day 1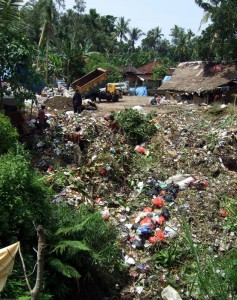 GLOBAL IDEAS Reporter Manuel Özcerkes has just started filming in Bali for one of our upcoming reports "Recycling in Bali":

Today was the first day of filming. We were looking for illegal dumps. We found one and the smell was overpowering. Even though it's probably not that old, the trash already fills a small valley. Around and on top of this dump live a few families. They collect plastic bottles to try and earn some money.

In the afternoon we went out to a black-sand beach. We needed the beautiful Bali images we were used to as a way to balance out the trash dump. It was perfect surfing weather. The beach was empty and quite amazing. Unfortunately there was no time for a dip in the water, because there is still a lot to do here. A lot to see, a lot to learn and a report to create.