Search Results for Tag: geothermal
Japan Turning to Renewables
Energy in Japan has become a very important issues since the nuclear crisis at Fukushima began. Japanese Prime Minister Naoto Kan said on Tuesday that the country will now shift its energy focus away from nuclear power and towards renewable sources. Currently, Japan's energy plan sees the country getting 50% of its electricity from nuclear power and about 20% from renewable by the year 2030. But Kan said that's what he wants to change, especially in light of Fukushima, and wind power will play a big role.
Japan will start supporting biomass and solar power, too. Plus, Japan is home to tons of hot springs, and they represent enormous untapped potential for geothermal energy. In fact, Japan could even produce enough geothermal power to export to other countries in Asia.
We know Japan has gone back to the drawing board since the Fukushima crisis, and Germany, too, is reexamining its commitment to nuclear power. Do you think we'll see this trend in other parts of the world too? Or is nuclear power too entrenched into the energy system where you live?
Volcano Power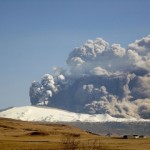 Remember Eyjafjallajökull? The massive erupting volcano in Iceland that brought travel across Europe (and beyond) to a grinding halt last year? If you were one of the many travelers stuck in an airport, chances are you do. It turns out the very same volcano that caused so many problems might soon be key to a green-friendly future!
Officials in Iceland are looking at building a massive power cable to Scotland that would send large amounts of geothermal and hydropower to Europe. The country has vast amounts of untapped green energy potential, especially hydropower and geothermal sources–an estimated 75% of Icelandic energy is undeveloped according to the government. The new power cable could produce enough energy to power 5 million homes in Europe.
Our Global Ideas reporter Jenny Hoff is in Iceland covering the future of the country's geothermal revolution, so stay tuned for her report coming soon!