Search Results for Tag: namibia
A legendary soccer player teaches how to change the world
Soccer can be a very successfull tool when it comes to urgent things that have to be done, climate change for example. In Namibia, the Soccer-initiative "Global United FC" fits the role of a kickstarter very well. The players visit schools to get in touch with pupils and to spread the word about how the climate can be protected. Former professional soccer stars from all over the world take part. In Nambia all eyes are especially on Lolo Goraseb, who is a local soccer legend and today the president of the Namibia Football Players Union. Our reporter Thomas Mandlmeier had the chance to interview him during a "Global United FC" event.
Lolo Goraseb played longtime for the "Brave Warriors," Namibias National team where he debuted at the age of 19 and went on to become the third most capped Namibian of all times. He started his career at the age of 17 for "Black Africa," a Namibian football team from Katutura (Windhoek) that takes part in the Namibia Premier League.
Lolo Goraseb, Namibian Soccer Legend from DW_Global Ideas on Vimeo.
Tags
black africa
,
brave warriors
,
climate change
,
interview
,
katutura
,
lolo goraseb
,
mandlmeier
,
namibia
,
premier leauge
,
soccer
,
windhoek
Namibia's big discovery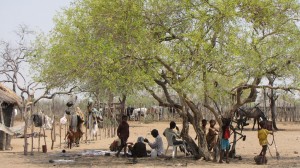 Namibia's government has made what looks to be a major discovery: a new aquifer that could be the answer to water shortages. One of the researchers on the discovery team is Martin Quinger, a project manager for the German Federal Institute for Geosciences and Natural Resources, told the BBC that the vast water deposit could supply northern Namibia for an incredible 400 years. And that is especially important for a country that is considered the driest in sub-Saharan Africa.
The aquifer, called Ohangwena II, straddles the border between Namibia and Angola, and Quinger says it could be as much as 10,000 years old…but don't worry, the water is still fresh and safe to drink. As climate change brings around an increasing number of dry spells and drought, the water source is a major discovery.