Search Results for Tag: students
Young climate enthusiasts sharpen skills at '2° Campus'
For the past two years, the German chapter of the World Fund for Nature (WWF) has organized a project called "2° Campus" or "Two degrees Celsius Campus." It's targeted at young students in Germany between the ages of 15 and 19.
The aim is to bring together young people interested in climate issues and science and encourage them to work on related subjects ranging from energy, mobility, building insulation to food. As part of the project, the students visited German universities, spoke with scientists and even got the chance to work on research projects with them.
As the project drew to a close this week in Berlin, Global Ideas reporter Julia Henrichmann caught up with some of the young climate enthusiasts and found out what drives them to engage with climate and environmental issues.
Enno Gerhard, 16,  from Bremen
Global Ideas: What made you take part in the project?

I happened to read about it in a newsletter. I believe that if we don't change the world, our future generations will not survive.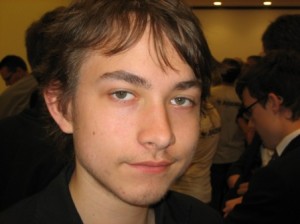 What was your focus during the project?
I always wanted to find out more about solar modules. We tried to figure out how to build organic solar cells. In the project, I was responsible for researching the variation of different temperatures in solar cells.
Has the 2° Campus project changed you as a person?
After taking part in the 2° Campus, I stopped eating meat, we even changed our electricity supplier at home. Now I would love to study physics to help build smart grids in Germany and to find new solutions for the power network (especially for alternative forms of energy).
What do you think are the most pressing climate issues?
We absolutely have to find quick answers for mobility, for example with electric cars. We also have to ensure that issues such as mobility and energy are brought together such as setting up new smart grids or building energy efficient buildings.  

Lukas Jochum, 17,  from Ottweiler in Saarland
Global Ideas: What got you interested in the project?
My teacher read about the project and asked me if I wanted to be part of it. I always wanted to save the earth and I'm already active in the Green Party.
What did you work on in the project?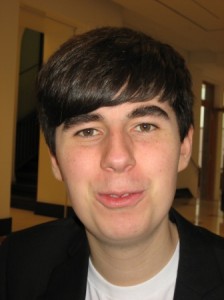 We worked on refitting old school buildings. For example, we looked at new ways of insulating buildings by installing new windows. 

What do you do personally to reduce your carbon footprint?
I always use my bicycle, I am vegetarian and I'm trying to convince my parents not to use the car that often.
How do you see the state of the planet in 30 years?

My dream is that we ban nuclear energy worldwide.
Antonia Bürke, 17, from Leipzig 
Global Ideas: What's your motivation for participating in the project?
Climate change concerns us all. 

What did you work on in the project?
In the project, I was responsible for inventing new coloring for solar cells. We used natural colors from tea, for example. It worked pretty well!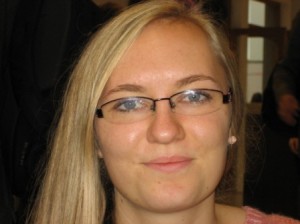 What do you do to combat climate change?
I don't eat meat, I always use my bicycle or use public transport. And I try and convince my friends to do that as well.
Where do you see the world in 30 years?
My dream is that many more people use trains and buses instead of cars. But for that, public transport options need to be more attractive. I hope that the famous German "Energiewende" (the transition from nuclear and fossil fuels to renewable sources of energy) will be in force and implemented by other countries as well. 

Helen Jerg, 16, from Mannheim 
Global Ideas: What prompted you to apply for the project?
We are going to be here for a long time and if we don't change our planet,  then our future is uncertain.
What was your role in the project?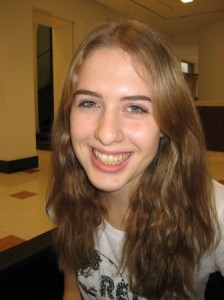 I want to study construction engineering to learn how to upgrade old buildings. My idea in the WWF project was not only to refit buildings and to put in new windows and to insulate walls but also to find a different use for school buildings. For example, why don't we use existing school buildings and convert them into youth hostels over the holidays? That way no extra energy is wasted and the school buildings, that lie idle over the holiday period, are put to good use.
What's your personal contribution to lowering emissions?
I am vegetarian and I try to convince my friends and family not to eat that much meat anymore. I also try to use organic products as much as I can.
What do you think the world will look like in 2043?
I hope that everybody will use green energy then, that many people turn vegetarian and that a critical mass of people become aware of the dangers of climate change.
Note: The name "2 degrees Celsius Campus" refers to a WWF study that shows greenhouse gas emissions in Germany can be cut by 95 percent by 2050 in order to limit global warming to a maximum of 2 degrees Celsius compared to pre-industrial levels. The study contains concrete suggestions for what needs to change in the fields of energy, mobility, housing and food in order to slash emissions.

What's it like to study sustainability?
Everyone talks about sustainability. But what's it like to actually study the subject at university? And indeed, what does a university that teaches sustainable development look and feel like? Our reporter Laura Hennemann went to have a look at an unusual institution near Berlin. 
Towering beech and spruce trees and plenty of clean, fresh air – that's the first impression I get of the campus of the HNEE (Hochschule für Nachhaltige Entwicklung Eberswalde) or the University of Applied Sciences for Sustainable Development. It seems like the perfect setting for a university where students come to learn how to shape a more sustainable future.
The HNEE is located in the small town of Eberswalde, approximately 50 kilometres north-east of Berlin. It's home to some 2,000 students who can choose from 16 different bachelor and master degree courses, among them forest information technology, marketing in organic agriculture and sustainable tourism management.
I'm curious about what kind of people a university of its kind draws. Do the students feel elitist given that they are studying to learn how to tackle some of the most pressing ecological problems of our time, studying to save the planet?
I meet  Sina, Hanna and Fee, three young women studying international forest ecosystem management. They tell me that the students are a mixed bunch, ranging from iPhone owners, tree huggers to some rather extreme environmentalists. And it's not just the students. The professors too have different mind-sets,  they say.
The one thing the three agree on is that studying at the HNEE can change your outlook. There are frequent discussions on the environment and a course on sustainability is compulsory for everyone in the first semester. Also, it's the little details which affect the students, they tell me.
I had noticed them myself when wandering around the campus. The building's energy performance certificate is pinned prominently on a noticeboard at the entrance. There are waste bins in each room, consisting of three bright-coloured parts for easy waste separation. And of course, the printers and photocopiers use recycled paper.  Another, probably unrelated, detail caught my eye – Both the ladies' and the men's toilet has a diaper-changing area. I secretly enjoy such progressive thinking.
But it's much more than such small details. The students tell me that the campus is powered by energy from a green electricity provider. Some buildings even have their own photovoltaic systems. And all the food at the canteen is organic. The environment certainly does make every student a little more ecologically inclined, the students tell me, regardless of your attitude when when you started
I go on to the second campus of the HNEE in the town center where I meet Vera Luthardt. She is a professor at the faculty of landscape management and nature conservation and proud of the new name the HNEE gave itself: "To be very honest, I was almost surprised that implementing the term "sustainability" got a majority in 2010," she says. And even more importantly, Luthardt adds, was the subtitle when the new name was announced: "Our name reflects our mission."
Luthardt's own research focuses on bog landscapes. Among other things, she and her colleagues are currently investigating how the re-wetting of ecologically damaged bogs might bind CO2.
And it's not just young students that the HNEE is targetting. In addition to the bachelor's and master's degree courses, the university also offers an extra distance learning degree for working professionals in the corporate sector. It's called strategic sustainability management.
"We cannot wait another entire generation for a rethink to take place," Luthardt says. She has been teaching at the HNEE since 1993 and is proud to be working at a university which sets itself apart from the rest.