Volcano Power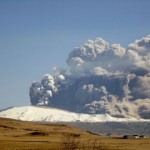 Remember Eyjafjallajökull? The massive erupting volcano in Iceland that brought travel across Europe (and beyond) to a grinding halt last year? If you were one of the many travelers stuck in an airport, chances are you do. It turns out the very same volcano that caused so many problems might soon be key to a green-friendly future!
Officials in Iceland are looking at building a massive power cable to Scotland that would send large amounts of geothermal and hydropower to Europe. The country has vast amounts of untapped green energy potential, especially hydropower and geothermal sources–an estimated 75% of Icelandic energy is undeveloped according to the government. The new power cable could produce enough energy to power 5 million homes in Europe.
Our Global Ideas reporter Jenny Hoff is in Iceland covering the future of the country's geothermal revolution, so stay tuned for her report coming soon!