We want you, Champ!
Do you feel responsible for our future? Are you tired of waiting for a breakthrough at climate conferences? If you are already taking action yourself, you are our ClimateChamp and we want to get to know you!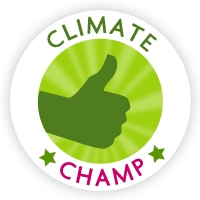 Global Ideas is one of the world's most comprehensive TV & multimedia projects on climate protection. We want to find people, who are not prepared to accept climate change, but take action against it!
We need you imaginative people with clever projects who are ready for duty to combat climate change all around the world. We may cover the consequences of climate change but our clear focus is on potential solutions. To date we have produced more than 1000 video documentaries, features, reports, analysis and web specials in 5 languages. We have a steadily growing online and social media audience, including almost 60,000 facebook fans and more then 1000 twitter followers.
So answer our questionnaire below and send it to us. Some pictures of yourself and your project – perhaps even a movie clip – would be great too. Please send them to coolerworld@dw.de and we give you the platform to show to the world that you are a real ClimateChamp!
Tags
bio
,
champions
,
climate champs
,
climate change
,
contest
,
global ideas
,
grassroots
,
make yourself heard
,
projekts
,
solutions
,
spread the word
,
take action