Tête-à-tête with tradition and the modern woman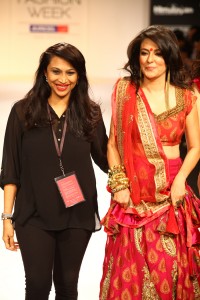 Ace Indian designer Payal Kapoor has a global recognition with her designer brands, "Famous" and "Raj." Debarati Mukherjee spoke to the designer, who shared her journey down the fashion isle and offered a peek inside her latest collection at the Lakme Fashion Week (LFW) in India.
What is your take on fashion for women?
Fashion for today's women should be practical and hassle-free with a strong style statement. The women of today are modern in their thoughts and perspectives and this should be reflected through their attire. They should be able to carry the garment from morning to evening without feeling that it's to gaudy or heavy.  The style should blend with tradition and culture and reflect their independent spirit.
What was the inspiration to create designs for the modern woman?
I myself am a modern woman and I think it is very essential to design clothes for a woman who manages work, takes care of the house and manages her children. So she needs something very practical, easy to wear, chic and comfortable. That's how I drew my inspiration to design for all modern women in the age group of 25-40 years.
What kind of clothes do you think represents the all-round qualities of a woman the most?
For an Indian modern woman I believe a sari, a maxi-dress and a "salwar kameez" represent her practical sense, feminity, grace and charm uniquely combined with a touch of her culture and tradition. She goes global with her charisma.
What issues did you face as a women designer when designing clothes for women?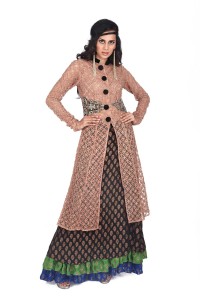 Honestly, I did not face many issues. Women designer are given an equal platform when compared to our male counterparts, but when it comes to media coverage, a male designer gets better and bigger coverage than that of a woman designer. Why this is so, I am still to find out.
How was the experience of participating at Lakme Fashion Week Winter/Festive season?
Participating at the Lakme Fashion Week Winter/Festive season was great. We displayed our collection "Notes from the Raj" where we brought back the beauty and grandeur of the old Banarsi (Indian silk from Varanasi-ed.) fabrics and crafts through our designer wear which is meant for the Indian woman who is modern and traditional in her style and attitude.
Why did you rope in international ethos in your ensembles at the LFW? What was your vision?
Today's modern Indian woman is just not restricted within the limits of India. She is travelling places and coming into contact with various cultures. So, a blend of tradition and international ethos will go with her free spirit and never-say-die attitude. Moreover, bringing in international ethos to Indian designs will help attract global buyers.
Debarati Mukherjee
Debarati Mukherjee is a freelance journalist based in Pune, India