Weekend comfort food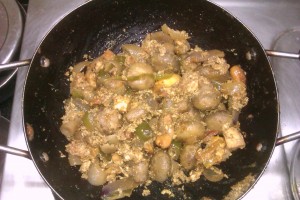 Our blogger Debarati Mukherjee shares her special recipe with eggs and vegetables. You can send us your recipe too and win a radio or an iPod!
Ingredients:
Button Mushrooms 250gm
Onion- 1 big sliced
Garlic- 4-5 cloves
Ginger- 5 cm
Cottage cheese- 150 gm
Tomato-1 chopped
Egg- 1
Cashew nuts- 6-7 pieces
Green chilli- 1 slit
Red chilli powder- 1tsp
Coriander Powder- 1tsp
Turmeric powder- 1tsp
Cumin powder- 1tsp
Cardamom powder- 1tsp
Cinnamon powder- 1tsp
Nutmeg powder- 1 tsp
Oil- 3tsp
Salt to taste
Method:
1. Wash the mushrooms and boil them with a pinch of salt and ½ a teaspoon of oil.
2. Slice the onion, chop the tomato, mince the garlic cloves and cut the ginger in small slices.
3. Cut the cottage cheese into small blocks and sauté it in a pan with a little oil.
4. Deep fry the cashew nuts to make them look brown and crisp.
5. In a deep bottom round pan, put some oil and fry the onions, garlic, ginger and the tomato.
6. Add coriander powder, cumin powder, turmeric powder, chilli powder, and keep sautéing until the oil starts coming out from the mixture.
7. Add the parboiled mushrooms, half fried cottage cheese and cashew nuts to the mixture and keep stirring.
8. Cover and cook for a few minutes.
9. Add the nutmeg powder, cardamom powder and cinnamon powder to the vegetables and cover it for a minute.
10. Beat an egg and add it from the top, over the vegetables. Keep stirring continuously, so that the egg scrambles and mixes well with the vegetables.
11. Sprinkle some fresh coriander leaves on top and serve with hot rotis or freshly cooked rice.
This recipe was sent to us by Debarati Mukherjee.