Rape: how many times?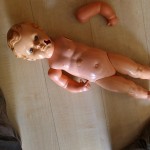 The Viqarunnisa Noon School is one of the most prestigious and well-known educational institution for girls in Bangladesh. In July 2011, the school witnessed an incident of rape. According to reports, Parimal Jaydhar, a teacher at this school, had been harassing a student sexually and blackmailing her when she went to his house for private tuitions. He recorded these instances on video and also threatened to post these videos on the internet if she were to go and report his abuse to the police. However, the girl decided to complain to her parents, following which her father filed a case against the teacher.
Students of that school broke into protest to arrest Parimal and ensure justice for the victim. The girl was lucky as all of Bangladesh stood by her and ensured punishment for the rapist, but I wonder what happens to those victims who go unnoticed.
Some of them commit suicide and many face other social problems. Dr. Mohit Kamal, a famous psychologist in Bangladesh, says that rape causes various short and long term disorders in the victim. Post traumatic stress disorder (PTSD) is a very common disorder among the victims. This could take even thirty years to heal. Patients of such disorders face long-term mental and physical illness. Some develop abusing attributes in their characters, some become violent and some become numb for life. Rape victims require constant support and encouragement from people around them. They require extra care for a long time.
While researching for this blog, I got to see the form used by the police in Bangladesh for interrogating a rape victim. Every small detail of her body is described in this form which is produced in court. The lawyers then read out the details in the presence of the victim, not once, but many times, which is like being raped for a second time and that too in front of a room full of people who are amused to be a part of such "mouthwatering" issues.
This causes the victims further trauma and stress. In one case a 13-year-old girl was abducted and kept in a single room for over a month and then repeatedly raped by a group of men who were from families with a lot of clout. The police recorded the report in favor of the rapist and described the young girl in a manner which seemed to suggest that the girl was used to regular sex and that her body had developed accordingly.
A girl who has been raped four to five times a day for more than a month will experience changes in her body, but this point was categorically avoided. The five men were freed and the girl didn't get any justice. Most importantly, her body and her age or any other attribute of the victim doesn't justify the act. Her age, height, the size of her breasts and other details have no role to play in the act. She was forced to have sex.
But such long forms and legal loopholes make it easier for the perpetrators to escape as they can make the incident look like consensual sex or in most cases, brand the girl as a person of low moral sense or a prostitute.
Another thing, which needs to be talked about, is the role of the media. In the case of Viqarunnisa student, the elite, educationists, activists, NGO workers and people from all walks of life in Bangladesh rallied for justice, but many newspapers published her name, her photographs and even her address.
The identities of rape victims need to be kept secret so she does not go through additional trauma, but many people still believe that a rape victim has an active role to play in the entire incident. She may have dressed inappropriately, which provoked the rapist's attack on her or she may have given him some hint of acknowledgment because of which he dared to attack.
We saw the Indian media play a commendable role in the Delhi rape case earlier this year. Every newspaper and other media agencies referred the victim "Nirbhaya," which is the Hindi word for fearless. Her name and identification was never made public. They published an illustration an avoided real pictures of the crime scene or the criminals.
The trauma a victim goes through ensures that she suffers for a very long time. However, we can take measures to ensure justice and support for such women in need.
Author: Aziza Ahmed
Editor: Manasi Gopalakrishnan