The girl next door!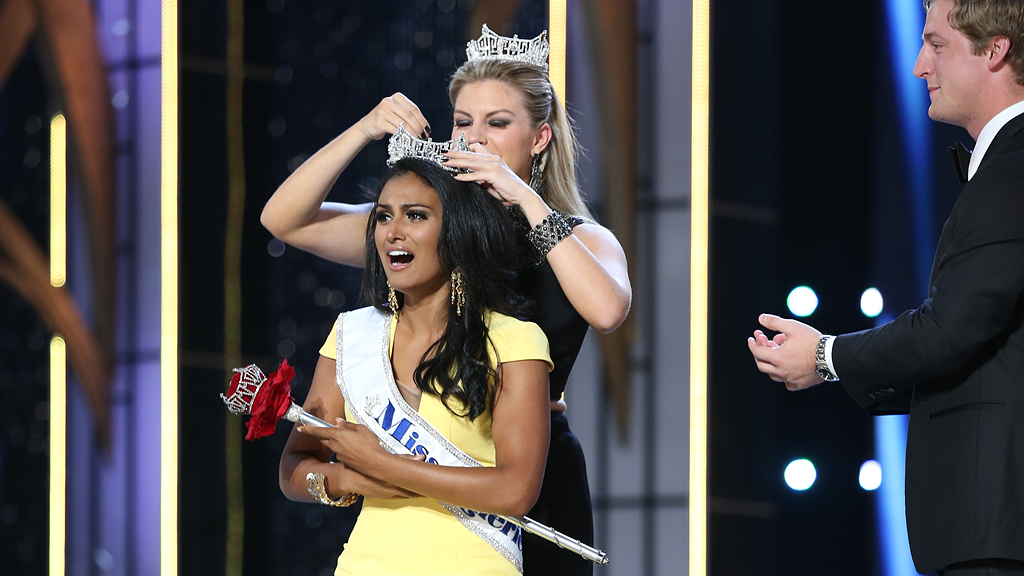 24-year-old Nina Davuluri from New York has become the first woman of Indian origin to be crowned Miss America. Daughter of an Indian-American gynaecologist, Nina now wants to use the money she won at the pageant to pursue a medical career. She already has a degree in brain behavior and cognitive science from the University of Michigan.She is beauty and brains and she is the next face of America. She just happens to be a brown-skinned girl who occasionally accessorizes herself with a "bindi" (a dot on the forehead). She is not an "ABCD" (American Born Confused Desi). She is proud of her Indian roots and heritage and has successfully assimilated herself in the country her family migrated to.
And yet, Twitter was overflowing with racist comments, marring her victory with tags such as #Muslim extremist, #Arab and #terrori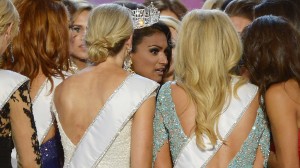 st. Nina is the daughter of Hindu immigrants from the south Indian state of Andhra Pradesh. Touting her as a terrorist or an extremist just reflects the ignorance and cultural insensitivity of those who spouted the hate.
Many Americans were offended, as she did not represent the American beauty ideal. Nina is however not the first woman of color to be crowned Miss America! Vanessa Williams was the first woman of African American descent to be crowned Miss America in 1983. Since then, seven other women of African American descent and one Asian woman have won the crown.
Roxanne Jones, founding Editor of ESPN The Magazine pointed out in her article that it was time that the offended Americans woke up to the new reality. "For the rest of America – in case any of you have been sleeping for, say, the past two decades, or clinging to out-of-touch fashion magazines — here's an alert: Beauty is Serena Williams and Michelle Obama. Beauty is Angelina Jolie and Marissa Mayer."
Nina hails from the third-largest ethnic community in the United States. According to the 2010 US Census Bureau report there are 3.2 million Indian Americans followed by Chinese Americans (3.8 million) and Filipinos (3.4 million). Nina is a proud American who was on a mission. In a video posted to the Miss New York homepage she said, "I'm on a mission. Miss America has always been the girl next door. But Miss America is evolving. And she's not going to look the same anymore."
I am not a great fan of beauty pageants where women are judged on their outward appearances, but thanks to this year's pageant, millions of young girls across the world now have a role model they can relate to. "Dark is beautiful" is a much needed message for many who have stared too long at fair-skinned models in glossy magazines. Nina's victory might even mark the beginning of an era where South Asian women start to feel comfortable in their skin.
Amul Topical : Tweets against Miss America. pic.twitter.com/e3Gz3POkwc

— Amul.coop (@Amul_Coop) September 18, 2013
Nina's crown has sparked off a debate in India: Nina might not have been crowned Miss India had she participated in the contest. She would have been too "dark" even for Indian standards. India is a country where skin-lightening creams are the fastest selling products and the brown woman is constantly reminded of the fact that she is dark, which means she is ugly and somehow inferior to her fairer counterparts. So, an average brown woman continues to torture herself with beauty treatments and despairs even today.
Nina is the new poster girl who shows the world that nothing, not even race and color can stop her from being successful. She has handled herself with dignity and race and has risen above the negative comments made about her. Despite the mixed feelings on Nina's win from the Indian Americans, Indians and Americans, I am glad she won and I am glad that Miss America looks different this year!
Author: Roma Rajpal-Weiss
Editor: Manasi Gopalakrishnan
Roma Rajpal-Weiss is an Indian Journalist and blogger based in Bonn. She can be followed on Twitter @romarajpal.