Pakistan's slum children are football heroes
Who would have thought that the poorest of poor children, living on streets and slums of Karachi, would become celebrities in Pakistan. Yes, this has happened. One thing common among these children is their immense love and passion for football. It doesn't matter that they had no playgrounds and no shoes to play, they simply love playing!
A couple of months ago, these children came to know that an NGO, the Azad Foundation, was looking for street children who could play football and that they would be taken to Brazil to participate in the Street Child Football World-Cup 2014. The Azad Foundation initially selected 125 street boys out of which nine were finally chosen to represent the country at the world cup.
These nine players stayed at a camp in Karachi for two months and practiced everyday for the big international competition. At the World Cup, they were not able to won the top title but they did manage to win the bronze medal after defeating teams like that of the US and India. The news had spread while they were in Brazil and Pakistanis welcomed them like celebrities. These players were state guests of the president, met with the chairman of Pakistan's Peoples Party, Bilal Bhutto Zardari, were invited to TV shows and were showered with gifts and shields.
These children are now touring 11 cities of Pakistan to show their solidarity with other street children and to encourage them to become part of organizations that are working for their upliftment. uplifting of poor and unprivileged children. On their visit to Islamabad, I met these talented players and was moved and inspired by their amazing stories.
The players' story
Mehar Ali has five sisters and five brothers. His poverty-stricken family wanted him to work and not play football, but his passion for football couldn't stop him. According to Mehar, "My family had burned my shoes so that I don't waste my time playing football, they wanted me to work with my father who is a fisherman, but once they got to know that I was going to Brazil, they were stunned and now encourage me to play and pursue my studies."
Aurangzeb realizes that he has become a role model for many other street children. "We are touring the entire country to show to other underprivileged children that they are also somebody, their life can be meaningful too," he says. Another player, Awais Ali, passionately describes his experience, "We participated in such a big event, we were able to represent Pakistan and we proved that children living in streets and slums also love their country, I used to get goosebumps on hearing my national anthem before the game started.  This encouraged me to do the best for my nation."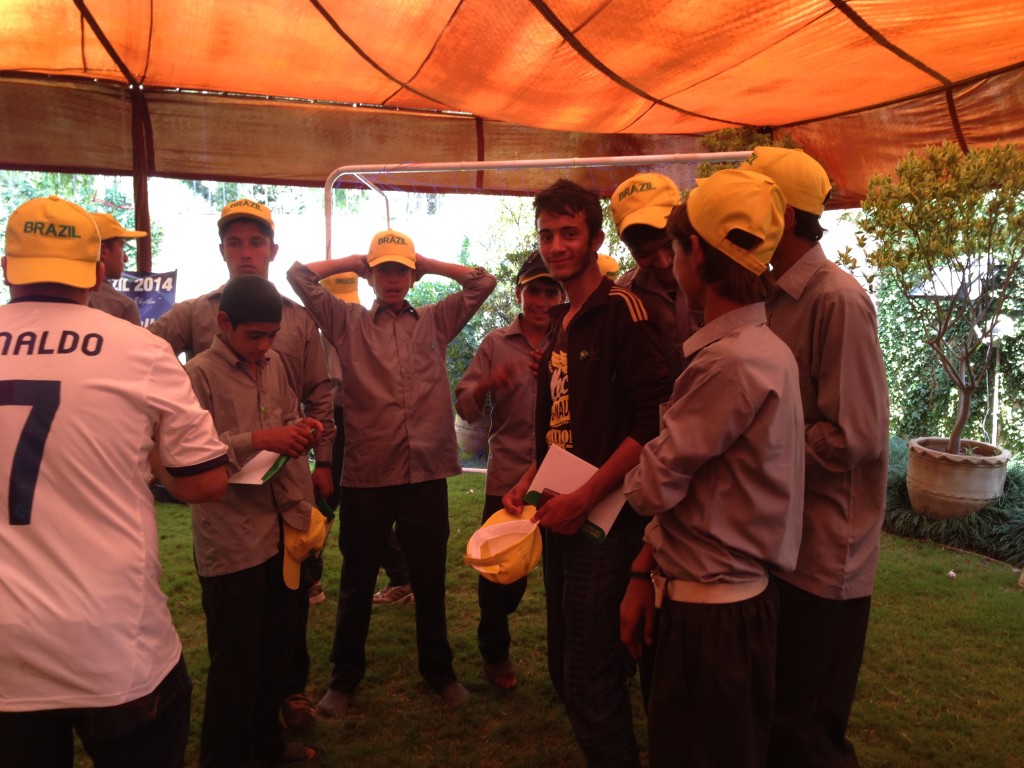 This is the first time that Pakistan has participated in the street child football World Cup so even the bronze medal is seen as a big achievement. John Roe, the CEO and the founder of Street Child Football World Cup sees his idea as a big success. "It took 4 years to organize this event, we had teams from 25 countries and no country has welcomed their children as Pakistan has", he says. John Roe believes that this event helped in highlighting the issues of these children. "Street children are often seen as rubbish, they are invisible, we have used football to change how people see them, the boys have now become heroes of Pakistan, they are now somebody", he adds.
Once the Azad foundation had selected these boys, it needed an organization which could sponsor their visit to Brazil. Muslim Hands, an NGO, stepped in to help. Their country director, Zia ul Noor, says, "We are so inspired by the results that we have devised a three-year plan to help poor and homeless children. We will visit all over Pakistan and select children who want to study, or get some vocational training or simply want to pursue their passion of sports and will help them during the next three years."
Things have only begun for these talented children. After completing the Pakistan tour , this team will be going to Norway and later Muslim Hands will be sending the young football players to England for training and grooming.
Author: Beenish Javed
Editor: Manasi Gopalakrishnan