Women in the News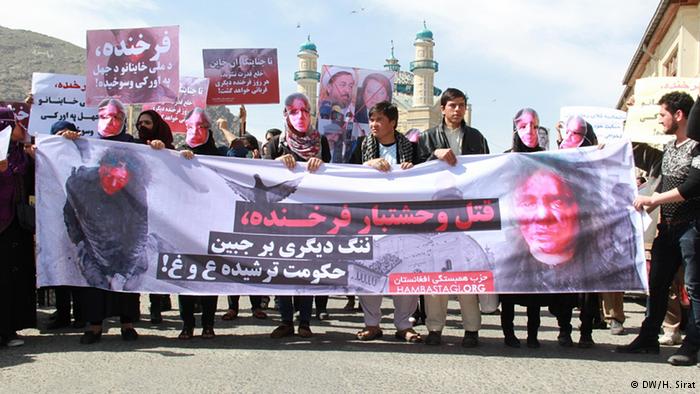 On Thursday March 19, 2015, an angry mob brutally killed 27-year-old Farkhunda near a Kabul mosque after she had been accused of burning copy of the Koran. Read more here, and other news about women.
A tragedy that shocked Afghanistan
Thousands of people have taken to the streets of Kabul demanding justice for a woman brutally beaten to death after being falsely accused of burning a copy of the Koran. DW examines what may have triggered the incident.
Read more here.
Boko Haram killing spree in Nigeria
Islamist militants have killed several people in an attack in northeast Nigeria. The extremists also slaughtered dozens of women in a nearby village to prevent them from being caught by 'infidels.'
Read more here.
The woman who leads a rebel Ukraine army unit
Previously, she worked at a casino. She now leads an artillery unit in eastern Ukraine. DW's Kitty Logan travels to Donetsk to meet one of the female leaders of the self-declared "People's Republic."
Read more here.
Berlin-born woman Debra Milke has been freed from death row in the US after more than 20 years for the killing of her young son. A judge dismissed the case against Milke after prosecutors lost their last appeal.
Read more here.
Lawyer: 'Gao Yu should be released from custody'
The trial of Chinese journalist Gao Yu has been further delayed. In DW interview, Gao's lawyer Shang Boujun talks about the health of his client and the defense strategy he is pursuing to obtain her release.
Read more here.
Angelina Jolie has undergone surgery to have her ovaries and fallopian tubes removed, two years after a double mastectomy. DW looks at some of the factors in assessing women's risk of cancer.
Read more here.
India nun rape: 'No religious angle to it'
The gang rape of an elderly Indian nun in eastern India has raised the question: was it a law-and-order incident, a result of communal tension, or simply gender violence? DW speaks to rights activist Saswati Ghosh.
Read more here.