Women in the News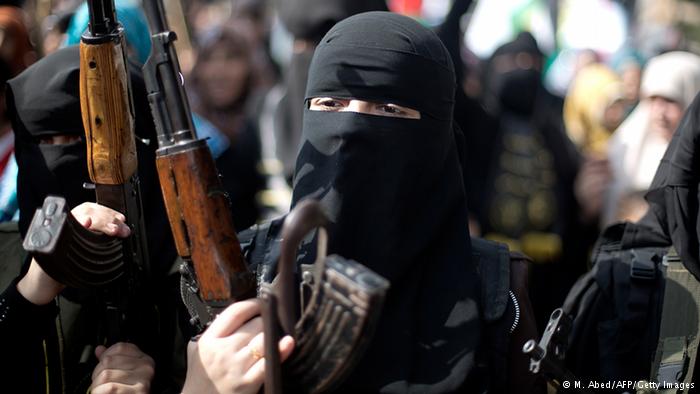 How is it like to live as one of the IS women? What role do they play? Find out here, and read other news about women that made it to the headlines.
U.S. sees ISIS wives playing key role in operations
The U.S. is now looking at the possibility that the wives of ISIS figures may play a greater role in operations and communications than previously thought because the terror group believes U.S. intelligence pays less attention to them. Read more here from CNN.
Inside Mosul: What's life like under Islamic State?
Exclusive footage from Iraq's second city of Mosul reveals how Islamic State wields power over people's everyday lives, a year after the city was captured. Secretly filmed videos obtained by the BBC's Ghadi Sary show mosques being blown up, abandoned schools, and women being forced to cover up their bodies. Read more here from CNN.
Black children are not even safe from police violence at a pool Party
Over the weekend, a video surfaced that showed police in McKinney, Texas violently controlling kids on a suburban street and pulling a gun on a young black girl. After I heard about it, it took a few hours before I could find the courage to watch it because I knew it would make me cry. And it did. Read the complete column by Steven W Thrasher (The Guardian) here.
Female genital mutilation practised in Iran, study reveals
The first authoritative study into female genital mutilation in Iran has found the practice is being carried out in at least four major provinces while officials are silent on the matter. Read more here from The Guardian.
Child marriage 'epidemic' on the rise in South Asia
Human Rights Watch has urged Bangladesh to scrap proposed legislation that calls for lowering the legal marriage age of girls to 16. Child marriage rates are very high in South Asia, with Bangladesh topping the list. See the picture gallery here.
Afghan women hold historic talks with the Taliban
A group of Afghan women has held unprecedented talks with the Taliban in the Norwegian capital, Oslo. The women say they focused on the need to protect their rights in any future power-sharing deal. One delegate described the talks as "historic". Read more here from CNN.
#DespiteBeingAWoman: PM Narendra Modi faces flak on Twitter for remark about  Bangladesh PM
While delivering a lecture at Dhaka University in Bangladesh on Sunday (June 7), Modi said that despite being a woman the Bangladesh Prime Minister had vowed that her government would have zero tolerance against terrorism. Read more here from The Indian Express.
Nobel laureate Tim Hunt resigns over comments on 'disruptive' female scientists
A Nobel Prize-winner has resigned as a professor at a London university after making controversial comments about female scientists. Tim Hunt made the remarks at a conference in South Korea on Tuesday. Read more here.
Kate Moss 'called pilot a basic b**** as she was led off an easyJet flight for swigging vodka from her cabin luggage after being refused alcohol'
Kate Moss  called the pilot of an easyJet flight a 'basic b****' as she was led off the plane after drinking vodka she pulled from her cabin luggage, fellow passengers have said. The 41-year-old supermodel was flying back from Bodrum, Turkey – where she had been celebrating the 50th birthday of actress friend Sadie Frost – when the incident happened. Read more here from the Daily Mail.
Shortlink: http://blogs.dw.com/womentalkonline/?p=14327