Equal pay and work-life balance among biggest challenges for women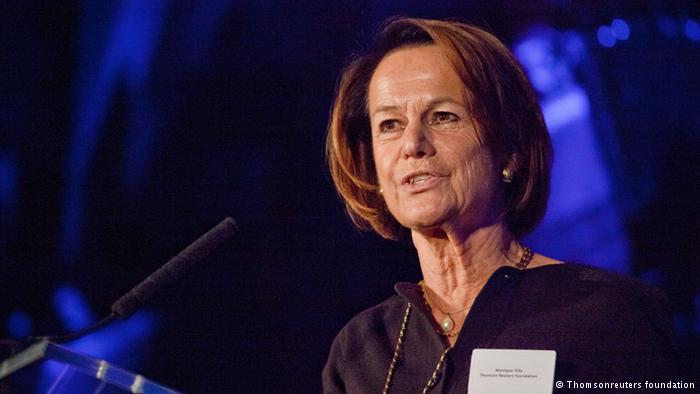 What challenges do women face at work? Is it possible to have kids and a successful career? The Thomson Reuters Foundation asked 9,500 women in the G20 countries. DW speaks to the foundation's CEO, Monique Villa.
DW: Why does it make sense economically to find out about the working conditions and work-life balance of women in the G20 countries?
Monique Villa: You have plenty of statistics to track the number of women working – their hours, their qualifications – but it doesn't tell us at all how they feel in the work place, or what they see as the main obstacles to their career, and if they feel as if they have equal opportunities to men. So we did a perception poll to fill this gap in the G20 countries. The poll showed a very clear disconnect between what the statistics tell us and what women really see on the ground.
Can you give us an example?
It's interesting to see that in Germany, France, the UK and the US, the main issue perceived by women is to have equal pay to men. In India, Turkey or in Saudi Arabia, women accept the pay gap, and it's one of their least important issues. That's probably because they feel it's not worth fighting for equality of pay, because it's not within their grasp. In Turkey, for instance, you have a president who said a few months ago that men and women are not equal. So they think it's not worth fighting for it. But in India, where violence against women has been in the spotlight in the four years since the 2012 gang rape on a bus in New Delhi, women now report harassment. It's very interesting to see that 53 percent of them report harassment as a main concern, whereas four years ago they would never had done that. Why? Because they think it's in their grasp – maybe not to solve, but to make progress. But they know that it's impossible to change the pay gap immediately in India.
Did you find anything else that was very surprising particularly about the differences between countries?
Another thing which was surprising concerned French women, who have one of the best situations in the world in the economic forum statistics on the gender gap. They rank 13th in the world, whereas the US is number 42, Germany is 43 and the UK 91. Still, in France, although they have this great tradition, 64 percent of the women consider the pay gap to be the major issue in the workplace. And although they have one of the most family-friendly policies in the world, they still think that the other big issue is the work-life balance. However, in Germany, the main issue after equal pay (it's also their top issue), is kids and a career. Only 21 percent of the German women polled thought that having children would not damage their career. All the others thought that it would damage their career. And the reason why is that it's more difficult to have childcare in Germany than in France. And the school day finishes at lunchtime; so it makes things complicated for the mother.
Particularly older women feel they'll damage their career if they have children. But in your poll, the so-called millennials (women younger than 35) are more optimistic than older women…
Which is a good thing. It's been more than 30 years that I've been in the workforce, and I have seen things improving considerably for women in that time. So it's normal that the millennials are more optimistic. It would be interesting to ask the same millennials in 10 years' time: is it really true that you can have children and have a perfect career?
How important is it to address these workplace inequalities?
It is absolutely vital. McKinsey recently published a big report, and they show that if the economy globally took the potential of women and gave them the same opportunities as men and equal access to work, it would add $12 trillion to the global economy in the next 10 years, which is huge. And, indeed, the G20 countries at the last summit decided that one of their priorities would be to put more women in the workforce. So it's very important that women have work and do work. And it's very important to give them facilities for childcare, to give them the same opportunities as men. When you think about a country like the US, full-time working women earn 77 percent of what their male counterparts earn. This is the biggest economy in the world. So imagine if women had the same access in the US – it would be a big boost for the economy.
The biggest issue named by all women polled was the balance between work and life. Do you think politicians take this kind of poll of women's perceptions seriously?
I think they do. If you take Germany, for instance, in the last few years they have started to make childcare more accessible, and to change laws. So I think it's changing little by little. It comes slowly usually when it comes from government, but corporations also do their bit when you give maternity leave, which is correct. And you have to promise women that they will have their job when they get back from maternity leave. I think all of these steps are absolutely crucial, so I'm fundamentally optimistic.
Monique Villa is the CEO of the Thomson Reuters Foundation and founder of TrustLaw and Trust Women, a movement to empower women and fight slavery. She has been ranked among the world's 100 most influential people in Business Ethics by Ethisphere.
Interview: Anke Rasper
Editor: Marjory Linardy
WTO RECOMMENDS
Every year Forbes releases a list of the top moneymaking jobs for women. It is based on the data from U. S. Bureau of Labor Statistics (BLS). Forbes tracked the median weekly earnings of full-time wage and salary workers in 2014, broken down by gender and occupation, and excluding occupations that employed less than 2,000 women last year. (From February 20, 2015)
When Maria Jose Pereira was growing up in the rural town of Escada, Brazil, her father's tools were off limits. "Everyone in my house worked in construction. My father and brothers were all stonemasons," Maria says. "I wanted to work with them, but they said I couldn't because I was a woman." (From June 6, 2015)
Asia-Pacific women under-represented in leadership roles
Despite being better educated, women in the region face a host of key issues such as employment discrimination, gender pay gap and a deeply entrenched cultural bias against working women, says MasterCard's Georgette Tan. (From March 4, 2015)