"A splash of color" in the lives of widows in India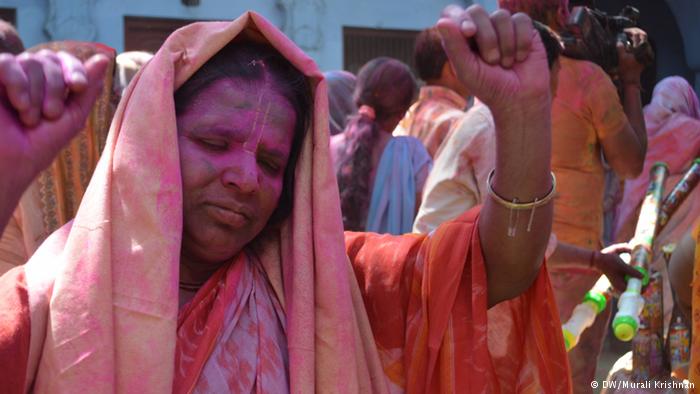 The city of Vrindavan in the north Indian state of Uttar Pradesh is also known as the 'City of Widows' and is home to an estimated number of 20,000 women who have lost their husbands. These women have been abandoned by their families and are shunned by the society because of many superstitions. Widows are said to bring bad luck and being a widow is considered the biggest curse for a woman.
According to Hindu scriptures, widows must remove all adornments, wear only white clothes, should observe fasts and even forego hot foods and maintain a vegetarian diet at all times. They are forbidden from participating in religious festivals and auspicious ceremonies and are not allowed to bathe in the sacred river along side pilgrims. They are also banned from wearing their hair long as it makes them attractive. Their heads are shaved upon the death of their husband.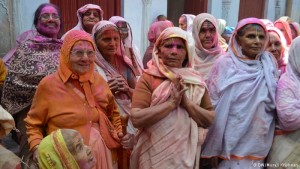 Although widow remarriage is legal in India, it is still frowned upon by society. The situation deteriorates for women who are dependent on their families. For a lot of women with no income, their only refuge remains spending the rest of their lives in an ashram (a shelter). They spend a life stricken with poverty and rely on alms or the money they receive for singing devotional songs in temples. A large majority of the widows in Vrindavan were given away as child brides to older men and end up being child widows. Some slip through the cracks and end up as prostitutes.
Breaking the tradition
Nevertheless there have been efforts to address the problem and break with this tradition. Deepa Mehta's film Water set in the year 1938 explores the story of an 8-year-old widow and another young widow forced into prostitution. The film ignited the wrath of Hindu fundamentalists and Mehta had to finish shooting her film in Sri Lanka. Although the film is set in the pre-independence era, it reveals the patriarchal traditions that are used to oppress widows. What the film portrays still is played out today in the country's rural areas.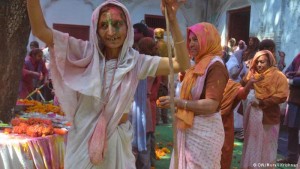 A few years ago Sharmistha Dutta addressed the apathy and gender inequality that exists especially with regard to widows in India in a photography project called DURGA. The project focuses specifically on the widows living in Vrindavan.
And this year, the spring festival of Holi was also marked with something extraordinary. On March 21, thousands of widows gathered at the temples in Vrindavan. Together they celebrated the festival of colors breaking the 400-year-old Hindu tradition that forbids them to celebrate festivals.
The Holi celebrations came as a welcome change to many widows and gives many more the hope that things may improve in the future. Integrating them into the festivities is the first step that can pave the way to improving their status in the society.
Author: Roma Rajpal-Weiß
Editor: Marjory Linardy
_____
WTO RECOMMENDS
Sharmistha Dutta: "My journey into photography started 3 years back. Around the time India was going through a massive social turmoil and there was a sudden spurt in cases of violence against women and abuse of women's rights. Somewhere it influenced my thought process immensely and forced me to look at the social status of Indian women in a critical way." (From September 15, 2015)
For years, Vrindavan, christened the 'city of widows' has been the home of women from many parts of the country's rural hinterland, particularly from West Bengal. (From March 19, 2014)
"What you think, you become… If you think you are weak, then you are. If you think you are strong, then that's what you become. Women are not empty vessels that someone will fill our lives with empowerment. We have to draw on our inner strength first, as the power to bring change lies within ourselves." (From August 20, 2014)
Tags
ashram
,
City of Widows
,
Deepa Mehta
,
Durga
,
Hindu
,
Holi
,
Roma Rajpal Weiß
,
Sharmistha Dutta
,
Uttar Pradesh
,
Vrindavan
,
women's rights