Women in science – more complex than men think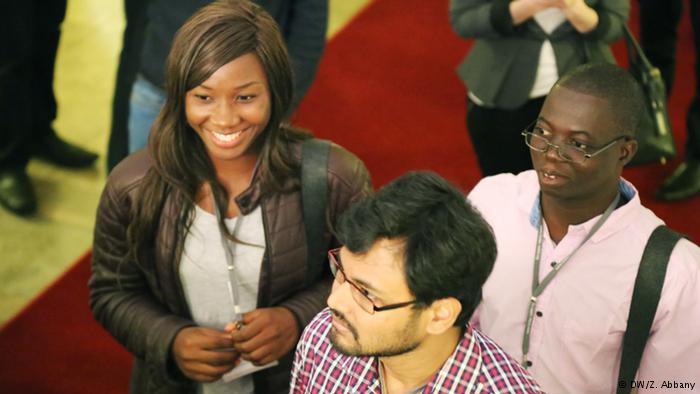 Of the 900 Nobel Prizes since 1901, only about 50 have gone to women. This has nothing to do with women's abilities as scientists. The problem is, there are still far too few women doing science.
If there were awards for the best news alerts, my vote would go to "The Economist" for this from June 20: "The first woman to rule Rome in 3,000 years." Wow, I thought. The first woman in 3,000 years!
It got my attention for the sheer scale of it. But if it hadn't been for the 3,000 years, I would probably have overlooked the alert. The phrase "the first woman" has become as much a cliché in journalism as it is a sad truth in society. There are so few "first women" we still feel the need to celebrate each and every one. And so we should. But why, in 2016, aren't we celebrating "The hundredth woman to head the […enter your institute of choice…]"?
Whether it's Hillary Clinton as the first woman presidential nominee for a major US political party or Pascale Ehrenfreund as the first woman to head the German Aerospace Center, our celebration should be muted. We have hardly taken our first steps.
This is especially true in the sciences.
And, yet, getting women to talk about "women in science" is not as easy as you may think.
Talk the talk
Some women – scientists and non-scientists – and men, feel it is important to keep pushing the issue in mainstream debate to remind us just how bad the situation is for women pursuing careers in science, technology, engineering and math (STEM), or computing.
But there are others who say the debate distracts us from the actual science women do. So they tend to stay away. DW asked a range of top female scientists to join a panel discussion on the subject on Tuesday (28.06.2016) at the Lindau Nobel Laureate Meeting. One Nobel Laureate who declined said she preferred to inspire young scientists by talking to them about the science itself – the process and the results.
We also asked Professor Emmanuelle Charpentier, director at the Max Planck Institute for Infection Biology and a co-creator of the gene-editing technology CRISPR-Cas9. As such, Charpentier is a Nobel Laureate in-waiting.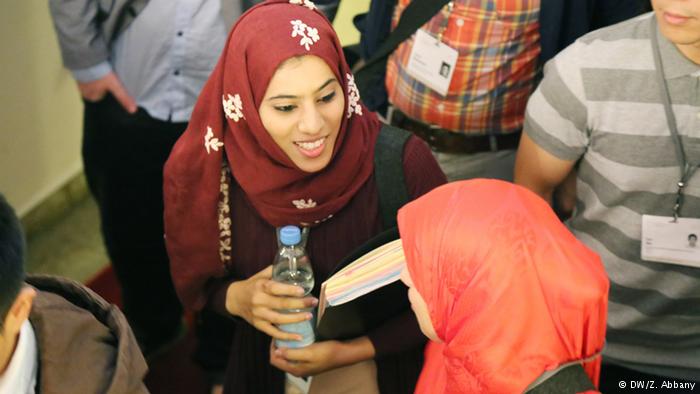 Charpentier declined our invitation due to prior commitments. But she sent us this message, which shows there is no easy answer, especially on how to improve the balance between men and women.
"Although I feel the debate can distract from the science, I believe women scientists should share their experiences," said Charpentier by email. "I do not believe that the issue of women in science will be resolved through positive discrimination, instead one has to consider the underlying societal and conservative issues."
Low uptake of STEM subjects
It's not only a subject for women to consider. It's for men too.
Three days after returning from the International Space Station (ISS) earlier this month, British astronaut Tim Peake faced a news conference in Cologne at the European Astronaut Center. A lot of the questions were about science education.
DW asked about women taking up STEM subjects. Peake said it was important to "encourage women into science."
.@astro_timpeake We have a very low uptake of #STEM subjects by women in the UK. It'd be great if we could encourage more women into science

— DW – SciTech (@dw_scitech) 21. Juni 2016
Frank De Winne, head of the European Astronaut Center and a former ISS commander, says the low levels of women taking STEM subjects means there aren't equal numbers of men and women applying to become astronauts.
"This is something we have to work on," says De Winne. "If you look at the class of 2009/2010, the year Tim [Peake] was selected, about 15 to 20 percent of initial applicants were women. And that stayed constant, because we select based on quality. In the end we had one woman out of six astronauts, which was Samantha [Cristoforetti], so that's still the same percentage."
In 48 missions, though, there have been just two female ISS commanders, Peggy Whitson and Sunita Williams. Cristoforetti told DW she would welcome the chance but wouldn't want the job just because she's a woman.
"Of course it would be a great professional opportunity to serve as ISS commander," she wrote in an email. "But being a woman is not in itself a merit: I was born a woman, I don't think this entitles me to obtain special […] accolades for accomplishing the same things that a male colleague has accomplished."
So Cristoforetti is no fan of positive discrimination either.
Positive vs. negative discrimination
There is another aspect to the debate, one which some academics feel receives little or no attention. And that's the issue of discrimination on the basis of color, cultural heritage, gender identity, sexual orientation, straight-up sexual harassment or a combination of These.
Astronomy has been dogged by a number of charges involving sexual harassment. Well-documented cases include Timothy Slater, then at the University of Arizona, and exoplanet hunter Geoffrey Marcy of Berkeley.
It's hardly an encouragement or inspiration for young women.
One astronomer at the University of St. Andrews told DW that scientists have long liked to think sexual harassment doesn't exist in their fields. But scientists are like any other people – they have their flaws too.
The issue of race, meanwhile, is a "white" elephant in the room, to mix metaphors. Writing in 2014, Dr. Chanda Prescod-Weinstein, a physicist and activist in the US, suggested most improvements for women in science had benefited white women more than women of color.
What, then, if you're of color, female and gay?
Author: Zulfikar Abbany
_____
WTO RECOMMENDS
As I started to write this blog today, a fellow journalist back in Pakistan tweeted about an attack on his cousin, a school headmistress in the Charsadda city of the northern Khyber Pakhtunkhwa (KP) province. According to the tweet, his cousin had nearly missed being hit with a bullet and was being treated at a hospital emergency. As I sit thousands of miles away from her, all I can do is pray for her speedy recovery. It breaks my heart to reiterate the fact that the attack on girls' education in Pakistan is far from over. (From June 3, 2014)
We keep on discussing issues like domestic violence, sexual harassment, unemployment etc. and thinking that these issues are severely affecting women. But there are many other grave issues which are damaging women's lives all around the globe. Some of these issues are lack of food, lack of health facilities and poverty. And women living in slum areas are at the worst hit by these factors. (From June 21, 2016)
Tags
Angela Merkel
,
Geoffrey Marcy
,
International Space Station
,
ISS
,
Peggy Whitson
,
Samantha Cristofetti
,
science
,
STEM
,
Sunita Williams
,
Tim Peake
,
Timothy Slater
,
women in science
,
women's rights
,
Zulfikar Abbany