Where women rule a patch of land in Kenya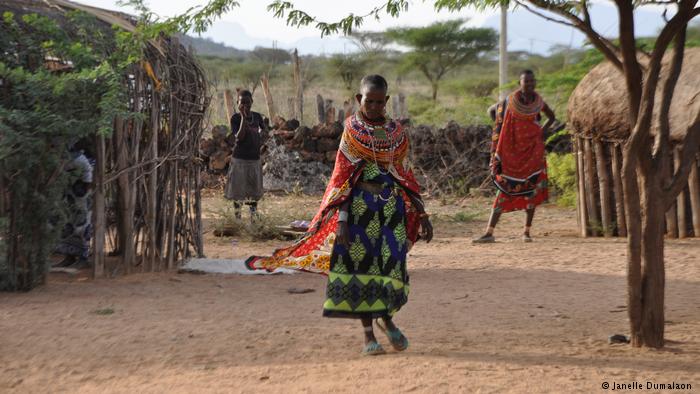 The women of the Samburu tribe face many hardships, including circumcision, child marriage and sexual abuse. Some had enough and decided to set up a safe village just for women.
Rebecca Lolosoli nearly died when she was 12-years-old because of an accident of birth. She was born a girl into the Samburu tribe of Kenya's vast scorched northern plains. The semi-nomadic pastoralists practice female genital mutilation.
"I went through the circumcision, then I almost died," she said. "But I got lucky because I just happened to be close to the hospital. I had drips and transfusions for one month."
For Lolosoli and the other women in her village, it was an unavoidable fact of life and one of the many harsh lessons she would learn about being a Samburu woman. Girls as young as seven are "beaded" – a cultural practice that allows a man to have sex with a young girl even if they do not intend to marry her.
"When I was a child, I saw so many things happening to the women, the girls," she said. "We can be killed anytime. If the husband wants to kill you, he can kill you. We had no right to choose our husbands. We had no right to own anything. We had no right to live."
Now, four decades later, she lives in a dusty, bare village called Umoja Uaso. A five-hour drive from the country's capital Nairobi, it sits where the road ends in a desert and near a training ground long ago used by British soldiers known as Archer's Post.
Hard won peace
A rickety fence made of thorny branches surrounds the village. It has a dozen or so small, straw and dung huts, with little to adorn or protect them from the elements. The women gather daily at a central meeting place, stringing colorful beads, swatting flies and cooing to colicky children. Men are nowhere to be seen.
Umoja Uaso – Swahili for unity – is a women-only sanctuary that Lolosoli and her friends founded over 25 years ago for those fleeing sexual abuse and violence. Forty-eight women now live in the village but the peace here was hard won.
"My husband beat me. He took all the animals and refused to feed the kids," said Nalaram Lesarkapo, one of the village's first inhabitants. "I came together with the strong women that I met here so that's what gave me strength. I forgot about who I was before."
Lesarkapo fled her village, along with 14 other women, who say they were raped by British soldiers. After the alleged rapes they were driven from their homes or their husbands tried to kill them for dishonoring their families, so they helped to found Umoja.
Faced with no viable ways to earn a living, the women of the village began to make and sell handmade beaded jewelry and crafts by the roadside. Men, resentful of their success often came to harass them at work, pushing them into the bushes and calling them names, explained Lolosoli.
But men aren't unwelcome here. Some are hired to tend to cattle or fix the fencing and other jobs traditionally not carried out by women.
"We didn't build the village as a women's village without men; we were just given this name by the men here," said Lolosoli. "It's like a dirty word to them."
Cast out and stigmatized
And indeed, resistance has remained strong among the men in neighboring villages.
"When women take on men's responsibilities in our culture like the way these women are doing, they become outcasts," Aleper Lomukunyu, who lives in a village a kilometer from Umoja. "Any woman who goes against our culture becomes a traitor of the community."
The hostility around the village isn't the only challenge Lolosoli and her friends face. Recently, malaria claimed the lives of three of the Umoja women. Bandits and cattle rustlers appear from time to time, as is common in northern Kenya.
But the Umoja village has become a center to advise women. Over the years, Lolosoli and the other villagers have trained 28 women's groups, advising them on women's rights and providing information about circumcision and schooling opportunities for girls. Though this part of the mission has become more difficult as funding has dwindled, Lolosoli vows to fight on.
"I think this village will continue to exist for a long time because women need a place to go when they have problems," she said. "Fighting for the rights of women – it's something I have in my heart."
Author: Janelle Dumalaon, Tonny Onyulo
This project has been funded by the European Journalism Centre via its
Innovation in Development Reporting Grant Programme.
_____
WTO RECOMMENDS
Gundo, a Senegalese woman working to stop female genital mutilation (FGM). But this isn't a problem limited to Africa. Our reporters meet women speaking out in Germany and the UK as part of our upcoming webisode #endFGM. Watch these hopeful stories about a tradition that needs to change – and join in using the hashtag #endFGM (From October 20, 2015)
Nearly every woman in Somaliland was subjected to Female Genital Mutilation (FGM) as a child. Usually, a razor blade was applied to them without an anesthetic. Campaigners want the practice stopped. (From September 6, 2016)
Many FGM traditions are rooted in a transition to womanhood. Maasai girls in Kenya are continuing rich, coming-of-age rituals – without genital mutilation – and learning about their bodies instead. (From October 5, 2015)