It's all in the package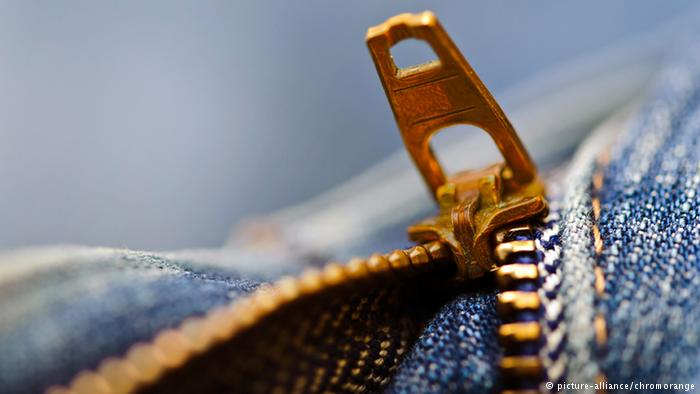 "Now I've seen everything." That was what I'd thought as I stared incredulously at the latest pair of jeans by Topshop. And it was simply because I could indeed see EVERYTHING.
For there on the screen before me was a model wearing a pair of jeans made entirely of clear plastic. Except for the model's boy shorts underneath, it would have made the perfect costume for a 21st century staging of The Emperor's New Clothes.
Topshop described the jeans as 'out-of-the-ordinary' and 'guaranteed to get people talking'. If you ask me, they are more likely to get people gawking.
As if to underscore their absurdity, the MOTO Clear Plastic Straight Leg Jeans cost – wait for it – $100! Topshop describes its latest creation as "ideal as a statement piece for a festival or costume party" and helpfully suggests that the look could be made edgier "with a bikini and sequin jacket or dressed down, layered under an oversized jumper or asymmetric hem dress."
These clear plastic Topshop jeans cost $100! Would you buy them? #fitzyandwippa pic.twitter.com/ctocwCzaGU

— Fitzy & Wippa (@fitzyandwippa) May 1, 2017
If this is indeed a project that was born of, say, the company's corporate social responsibility to recycle plastic, then it's yay for Mother Earth, but a resounding nay for earthlings with less than perfect pins. Or for that matter, anyone who doesn't want to resemble a BLT sandwich packaged in plastic wrap.
Coming from the tropics, I also wonder what would happen if the wearer sweated. Wouldn't it get a tad sticky inside? Worse still, what if condensation were to occur in regions you'd rather not draw attention to?
Unsurprisingly, the Twitterati has lost no time in dissing the jeans, with some sarcastically suggesting that they would pair well with Reebok's "Authentic Sweat Shirt," with its emphasis on "sweat".
Also costing $100, the "pre-sweated tee for that post-workout look and smell" boasts actual and accurately placed sweat stains and a lingering odor for as long as long it remains unwashed.
This was apparentlywas Reebok's tongue-in-cheek response to another trend that recently had much of the social media frothing: retailer Nordstrom's mud-caked jeans that cost $425. Nordstrom promoted them as embodying "rugged, Americana work wear … that shows you're not afraid to get down and dirty."
Seriously? Some of us could achieve the same effect for a fraction of the cost by mucking about in our gardens after severe rainfall.
Topshop Clear Plastic Jeans Is Like Raincoat Pants, But Only Transparent – https://t.co/NSzE524BvU pic.twitter.com/OoSKCdZsJ0

— MIKESHOUTS (@mikeshouts) May 2, 2017
While some argue that the vagaries of fashion are as fickle as April weather and that this monstrosity too shall pass, I relate more to the criticism lobbed against the retailer. Touting the 'appearance' of hard work as fashionable to those who needn't even try rubs it in the faces of those who do. And making an exorbitant sum off of that smacks of poor taste.
Yet, you cannot help but wonder if creative people behind fashion houses are currently languishing in the design doldrums as even accessories have fallen victim to the "rich couched as regular" theme.
Like Balenciaga's large blue tote, the sinfully richer cousin of the IKEA Frakta bag. Sure, the former is made of leather, but I doubt that many want (or can afford) to cough up $2,145 for a bag that can easily be mistaken for the furniture giant's signature carry-all.
Perhaps one way of embracing the trend is to perceive it as high fashion being affordable to the woman-on-the-street. And we can allow our inner DIY demons free rein to fashion things out of common household items.
A clothes hanger for a fascinator? A bin bag for harem pants? Raffia string for hair ties? All bespoke, all unique. And unlike the privileged minority who can afford their far more expensive avatars, ours are unlikely to burn large holes in our pockets.
Author: Brenda Haas
Editor: Anne Thomas
_____
WTO RECOMMENDS
Glittering gowns, elegant suits and bold mini dresses worn by the late Princess Diana are on show at Kensington Palace, marking the 20th anniversary of her death. The new exhibition charts her evolving style. (From February 27, 2017)
I think I'd be hard pressed to find anyone who's never had the jitters at a job interview. There you are facing a panel of stern HR people, your head a hodgepodge of "correct answers" to their potential general knowledge questions, your CV read, reread and proofread to perfection, your clothes striking the right balance of professionalism and comfort… (From April 18, 2017)
When I first moved from Asia to Europe – specifically to Germany – I was a European size 36. Then I discovered German bread – specifically "brötchen" – and they proved to be my undoing. (From April 20, 2017)