Hong Kong's domestic workers 'treated worse than the dogs'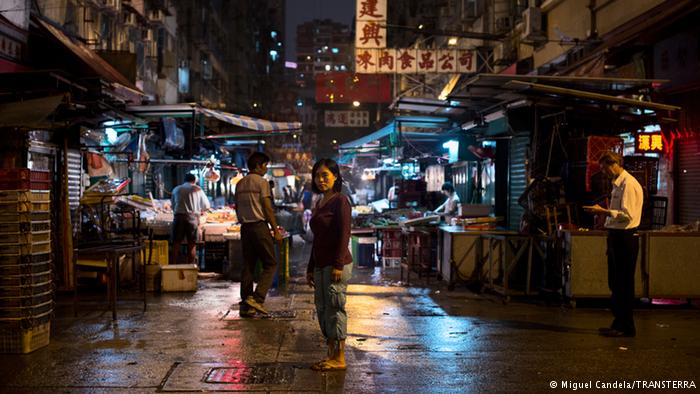 Many of the hundreds of thousands of migrant domestic workers looking for a better life in Hong Kong end up exposed to abuse at the hands of their employers. Zigor Aldama reports with three women's stories.
Kamsiah (pictured above) was one of the 334,000 foreign domestic workers registered in Hong Kong. She is also one of the many who have suffered abuses at work. At 41, she left her hometown in Indonesia to work her way to a better life. However, she found herself in a nightmare.
"This is the second time I have worked in Hong Kong, and with my previous employers I had no problems," she said. "But this family treated me worse than their five dogs."
Kamsiah said she had to sleep with the animals and was barely fed with a daily bowl of rice with some vegetables. The pets, however, received all kinds of care from five o'clock in the morning.
"I had to get up at that hour to walk them," she said. "Then I would prepare breakfast, clean the house, do laundry, make lunch, do shopping, hang and iron the clothes, cook dinner, and then the lady would ask me to give her massages until the wee hours of the morning."
No money, no passport, no options
All that for a meager HK$3,920 ($500, 466 euros) a month, from which she had to foot the HK$2,543 fee the agency charged her during her first six months on the job.
"I escaped because they made me sign my paycheck, but refused to give me the money," she said. "I could not take it anymore."
It was almost midnight when Kamsiah took refuge in a McDonald's, one of the few places open 24 hours. "I had no money or documents because the passport was being held by the agency. I desperately waited until another Indonesian appeared," she said. "She told me about an NGO that provides assistance to domestic helpers and I went to them."
But her difficulties had only just begun as she was later arrested by the police. The family that had employed her accused her of stealing a wallet containing HK$7,300. Now, after proving her innocence, Kamsiah has filed a lawsuit for labor exploitation against her former employers.
She's not the only one. Until recently this situation went unnoticed to most Hong Kong citizens, but a particularly violent case has brought it out of the shadows. In January last year, Erwiana Sulistyaningsih showed that Kamsiah's was not an isolated case.
Case reopens debate in Hong Kong
Also an Indonesian, Sulistyaningsih was taken to the airport by her employers and forced to return to her country with just 100,000 Indonesian rupiah (around $8) in her pockets. "Do not even think about saying anything of what has happened in Hong Kong, because we will kill your parents!" they threatened.
Immigration officials let her leave without asking any questions – despite her broken nose, several missing teeth and bruises all over her body. Upon her arrival, doctors in Indonesia ordered her immediate admission to a hospital where they discovered that she had suffered brain damage due to repeated blows to the head.
On February 10, a Hong Kong court found her employer, Law Wan-tung, guilty of 18 separate charges of abuse, for which she will serve six years in prison. This case reopened the debate on the employment and living conditions faced by foreign domestic workers.
Protection laws go unenforced
"The problem is that the law itself discriminates against migrants working as maids in Hong Kong," said Mabel Au, Amnesty International's China director. "First there is the obligation of living with those who employ them, and, secondly, a rule stipulating that if they do not get a job in the two weeks following the termination of their previous contract they should leave the city. But the worst is that laws theoretically passed to protect these women from abuse are not implemented."
Au said an intricate web of mafia-like organizations profit from those women thanks to a lack of supervision by government authorities.
Labor exploitation starts when workers have to sink themselves in debt to pay large amounts of money to agents and continues when they arrive in Hong Kong where, by law, agencies arranging employment for them can only charge 10 percent of the first month's salary as service fee. That's about HK$401.
"In fact, the amount ends up being much higher," Au said. "Most of the girls are scared and have little information about legal formalities. They sign their contracts in a language they don't understand – Chinese and English – and have no idea how the sector works."
Left with nothing but debts
Such practices, Au added, mean the foreign workers are often paid less than the minimum wage and unable to report how they are ripped off by agencies and employers. The workers' passports are also confiscated upon arrival "leaving them vulnerable and fully exposed to abuse."
Grace knows that well. Originally from the Philippines, she signed a labor contract to work in Hong Kong but her employer's family sent her illegally to Dalian, in northeastern China. Without her passport and unable to speak any Chinese, she didn't know what to do, so she signed a work contract. After having worked there for a while, the employers refused to pay her and sent her back to Hong Kong with just 200 RMB ($32, 30 euros) in hand.
She has filed a lawsuit against the family who employed her, but said she's not very optimistic about the outcome. Grace said doesn't think she will be able to pay the 40,000 pesos ($903, 832 euro) in debts she contracted in the Philippines with the employment agency.
Author: Zigor Aldama
WTO RECOMMENDS
Every day hundreds of young women and little children are bought and sold as domestic help across India. In many cases, parents have no idea that their child might be raped, tortured and subjected to severe mental abuse. "Girls in bondage," a multimedia feature, highlights the plight of young women and children who are lured by agents and end up as domestic labour in different cities in India. Women Talk Online spoke to CNN-IBN's Priyali Sur, the journalist who uncovered the tragic stories of these victims.
The 'slaves' in an Indian household
58-year-old Kaveri Ammal works as a domestic help in a neighborhood in Chennai in southern India. She leads a hard life, travelling 15 kilometers everyday to work in different neighborhoods and earning a salary of about 2,500 Rupees or around 50 dollars every month. Her work usually involves washing the dishes, cleaning the laundry, ironing, sweeping and washing the floors. Between her cleaning assignments, she takes a nap in a temple close by or visits her daughter or friends who live in the area.
Saudi Arabia has banned its citizens from marrying foreigners from Pakistan, Bangladesh, Myanmar and Chad. The administration says that the number of expats from these communities has exceeded the government's limit of 500,000. But for one Pakistani woman, this is a blessing in disguise!