Maiti Nepal – Giving Hopes and Dreams for Many Girls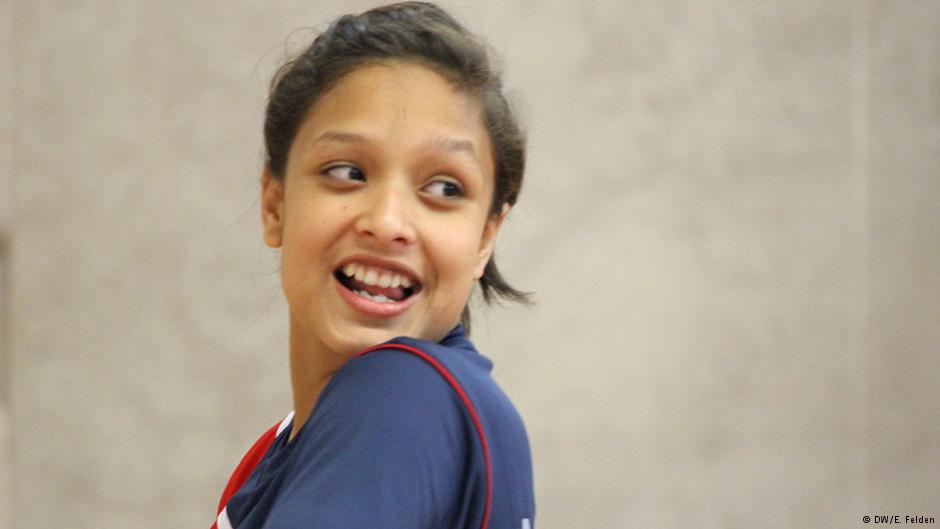 Sita's face beams with happiness as she dances (picture). After enduring severe hardship, a group of Nepali girls are now on a tour performing traditional dance across Germany, Austria and Switzerland. DW takes a look at how the Maiti organization offers them aid and shelter.
Sita and other Nepali artists recently visited Elly-Heuss-Knapp middle school in the German city of Cologne, where she introduced students to Nepali dance. Together with nine other Nepali female artists, the young dancer came to Germany to take part in this year's "KinderKulturKarawane" – an international social and cultural project sponsored by the United Nations Children's Fund (UNICEF).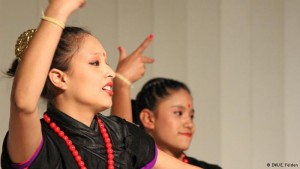 As part of this project, groups of young people from across Asia, Africa and Latin America are currently touring Germany, Austria and Switzerland, to give European audiences an insight into life in their home countries.
Treated like human waste
Maiti Nepal, a non-profit organization, provides shelter not only to the Nepali dancers, but also to over 500 other girls in the South Asian nation's capital, Kathmandu. The organization assists victims of sex trafficking and prostitution, practices which are widespread in the impoverished country. In 2013, Nepal's annual per capita income stood at a mere $730.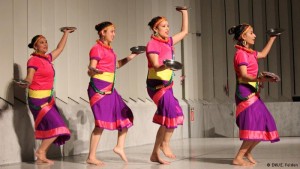 This means that families are always looking for additional income sources. But their dreams of a better life are brutally exploited by human traffickers, who trap innocent girls and women by making them attractive-sounding offers: for instance, by promising them well-paid jobs as housemaids in neighboring India.
But once in India, the women end up in brothels in the country's megacities, where they face abuse and enslavement. And after being exploited for years in such slave-like conditions, the victims are kicked out of those places, leaving them with nothing. Many of the exploited women contract diseases such as HIV/AIDS or Hepatitis and they are treated as outcasts.
A life-changing meeting
NGO Maiti Nepal has been offering shelter and assistance to victims of human trafficking in Nepal ever since it was established in 1993. The organization also operates so-called "transit homes" at important crossing points along the India-Nepal border designed for exploited women and girls, and even orphans, returning from India.
The NGO was founded by Anuradha Koirala, who worked as an English teacher prior to setting up the aid organization. One day, Koirala met a woman named Geeta, an HIV-infected former sex worker, who had been trafficked into sexual slavery in one of India's brothels. "After that meeting, I wanted to do something to help people like Geeta," she said.
66-year-old Koirala says that she witnesses the suffering and agony experienced by such victims every day. That's why she wants to fight for them and their rights as long as she can, she stated. For her work, Koirala received the CNN Hero of the Year Award in 2010, and was granted the Mother Teresa Award in 2014.
Lack of rights
To provide an insight into the plight of such victims, the rights activist told DW the story of a young woman who was trafficked into an Indian brothel at a very young age. After 15 years of exploitation, the woman returned to Nepal, Koirala said, adding that her final wish was to visit as many temples as possible and light candles. Koirala was able to help her realize her last wish, although she couldn't save the woman's life.
Even in death, she was treated as a third-class citizen, Koirala said. "I wanted her body to be cremated but no one wanted to take the body in," the activist said, adding that when she finally found someone willing to do it, she had to pay ten times the normal price. "When I asked them why, they pointed out that the woman had HIV and that she came from Maiti Nepal," the activist said in a bitter tone.
"What about the rights of this woman? She had no rights whatsoever as she was exploited from the age of seven, and robbed of her youth and life. Don't human rights apply to her?"
When new girls arrive at the organization's center, they are in such a state of shock that they find it hard to even talk. When Sita, the artist, thinks about her life before her association with Maiti Nepal, she cries. The NGO is everything for her, she says, wiping her tears. "Maiti Nepal is my future; the people there have given me love and support."
Easy prey for traffickers
Furthermore, the staff at the NGO strive to provide medical, psychological and legal care for the victims. The organization also tries to identify men who trafficked the girls and women and bring them to justice. "Such trials take up to one and a half years. During the trial period, the victims stay with us, as there is a high risk that they will be bribed by the criminals' families," noted Koirala.
In the meantime, the women receive training and education that pave the way for their return to society. "It always makes me proud when I see my girls educated, and when they have regained their human dignity," said activist Koirala.
The situation at Nepal's border with India has been worsening for several months, with an increasing number of Nepali girls and women being trafficked. Experts say one key reason for this development are the two recent earthquakes that struck the landlocked nation early this year. The disaster turned many children into orphans. "These children are now an easy prey for human traffickers," says Koirala.
Hopes and dreams
The students of Cologne's Elly-Heuss-Knapp School know nothing about the hardships endured by the girls with whom they rehearsed a Nepali dance for two and a half hours. There is a sense of excitement in the air following the workshop, with a female student explaining how great it was to get an insight into a foreign culture. They are proud of themselves for having mastered the five-minute-long choreography in such a short time.
Sita wants to turn her passion into a career: "I love dancing and want to become a dance instructor." Her dream is to become a famous choreographer one day, she says with a smile of her face.
Author: Esther Felden / sri
WTO RECOMMENDS
Thousands of women and children are affected by Nepal's devastating earthquake and do not know how to continue with their lives. Relief workers warn of the threat posed to these women by sex traffickers. (From May 29, 2015)
As they keenly listen to the beautiful voice of Suman Devi, 25, singer and composer, gradually the Nagpuri lyrics explaining the ill-effects of child marriage start to sink in. When the melody comes to an end, in the ensuing stillness, Suman opens a discussion on healthcare for women and adolescents. (From June 19, 2015)
It is ironic that while India is one of the world's fastest growing economies, many Indian women are still trapped in the dark ages. Just name it – female feticide, child marriage, sexual violence, dowry, domestic slavery and abuse top gender evils. It might not necessarily be in that order. (From September 24, 2015)
Tags
Anuradha Koirala
,
brothel
,
exploitation
,
Hepatitis
,
Hero of the Year Award
,
HIV/AIDS
,
housemaid
,
India
,
Kathmandu
,
Maiti Nepal
,
Mother Teresa
,
NGO
,
sex trafficker
,
trafficker
,
women's rights
,
womensrights