When natural hair becomes a journey to oneself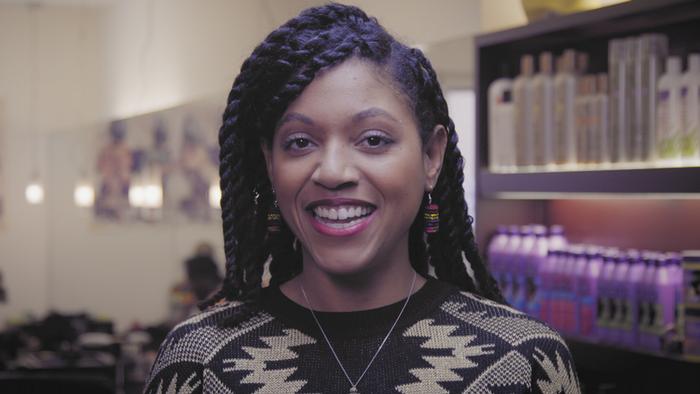 Many Afro-Germans have trouble finding hair products and stylists that understand their hair. Esther Donkor founded the online magazine krauselocke.de to fill the gap. The publication goes far beyond hair.
Until just recently, Mena had long, smooth hair that was dyed purple. It was a real eye-catcher at school. Now, though, her hair is just shoulder-length and curly. "I sometimes have my hair like this, or like that," she said. "Now, I can decide myself how I want to have it."
Her mother and her aunts used to do her hair for her – in cornrow braids. "When I became a teenager, I started noticing that some people didn't really accept us with our natural hair," Mena said. That's why many Afro-Germans straighten their hair and use hair extensions, she pointed out.
Esther Donkor, one of two women who founded the website Krauselocke.de, can relate to Mena. "I used to straighten my hair, too, but often wound up burning my scalp," she said. She also didn't feel comfortable with her hair. "I didn't how how to take care of my hair, what I should do with it."
KrauseLocke.de for natural hair
Donkor decided to do something about it, launching Krauselocke.de in 2011 with her friend Barbara Mabanza. Afro haircare and lifestyle websites abound in the US and the UK, the two noted, but they were missing such a platform for the black community in Germany, their home country. There were clubs and groups, but they weren't networked very well, said Donkor.
Krauselocke.de considers itself to be a multicultural, urban online magazine geared toward people with frizzy hair and "ruffled minds," as they say on their website. There are plenty of tips on haircare and cosmetics to be found there, but there's also much more.
One mother contacted Krauselocke.de after her son was hit by a classmate for not being white. People really ask for help, Mabanza said. They are angry and ask: "How can I express my anger and how can I help my child?"
Other people relay similar experiences – and how they dealt with it – in the website's forum. "People don't talk about hair and beauty products there; they talk about racism, about relationships, about food," said Donkor.
Traditional haircare at Zeebra Tropicana 
Zeebra Tropicana salon in Cologne is one of few specializing in Afro hair. Across from a rainbow of wigs, a wall of styling products looks like a Tetris game of hair creams, oils and sprays.
Owner Baaba Yankah-Oduah came from Ghana to Bonn, Germany, 40 years ago to work in her country's embassy. Back then, she and her colleagues struggled to find stylists and products for their hair.
"We had to go to London to do all the shopping for our needs for a year," Baba said, while rinsing a client's hair.
One day, she decided to go to England to train as a stylist. Then, 27 years ago, the Ghana native opened the first-ever Afro hair salon in Cologne. She still orders supplies from abroad.
It's all in the training
Afro hair is different, Yankah-Oduah pointed out. She said that European stylists aren't sure how to deal with kinky curly hair since it's not part of the German training program for stylists. They tend to overuse thinning scissors to "tame" it, she added.
"Every curl is an S," she explained, "So you must make sure you don't cut the S in the middle. When you cut the S in the middle, you blow it out. Always cut the curls where the new S starts to form."
To achieve straight hair, some women undergo a chemical process called "relaxing" to remove the curl. Beyond chemical damage, Barbara Mabanza warns of the self-esteem damage in considering European hair the ideal beauty.
Mena also used "relaxer" creams when she was a kid. Members of her family, who hail from Angola, often use them, she said. "These products destroy hair structure," she said. "I didn't know for a long time what the structure of my hair was even like."
Accepting oneself
Donkor stopped treating her hair with chemicals a long time ago. That had an effect on her personality, the journalist said. "I think that this journey of wearing one's hair the natural way – if you've used relaxers or hidden your hair under wigs in the past – is also a journey to oneself."
Mabanza hopes Krauselocke.de will help women embrace their natural locks – and educate those who don't have curly hair. If people see more and more people with black curly hair, then it creates a little more normalcy in society, she said.
"So that questions like 'Can I touch your hair?' or just touching without asking will not happen anymore," Mabanza said. Both Mabanza and Donkor said that such a thing occurs regularly.
"People pet my hair like I'm a pet sometimes, and I don't like that," Donkor said.
Kinky hair isn't valued in our society, she said. "Just look at Beyoncé. She's a black woman, but she wears her hair in a smooth blonde 'weave.' You never see her with her natural hair." Donkor said that's a pity.
On the other hand, there are some people with straight hair who have it made curly. "I think that's great and it will become more popular," Donkor said. "It's just a matter of time before that becomes completely normal."
Author: Gaby Reucher (als), Lori Herber