Pakistan's Dangal sisters aim high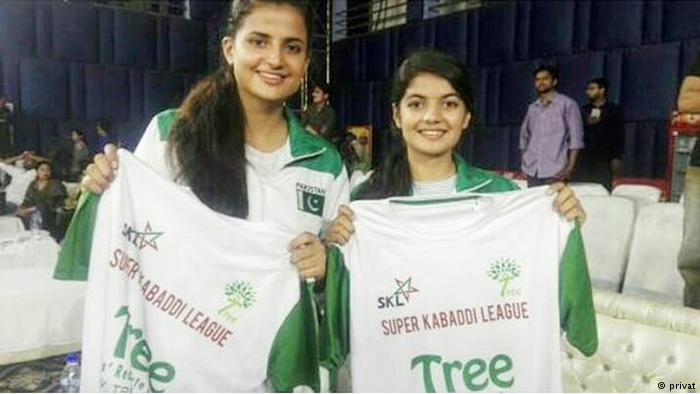 Hamda,18, and Laiba, 16, are kabaddi players and even on Pakistan's national women's team. The girls are often compared to the Dangal sisters of Bollywood fame who were high-level wrestlers. I spoke to the girls and their father and trainer Rai Masood Kharal, to find out more about what motivated them to play this male-dominated sport.
Kharal told me that the girls learnt to play many sports at school and they competed in inter-school events. One day, someone saw them playing badminton and suggested that a coach be hired because they were so talented. Later they turned to kabbadi and became extremely good.
"Gradually, with every training session and competition the recognition and acknowledgement that the girls received motivated them to work harder. Also, as a father I wanted my daughters to become the pride of our country."
He explained that usually the best a conservative family can do is provide girls with a basic education before eventually marrying them off. He was different. "Often I'm looked upon as un-Islamic or too liberal. A man who should feel ashamed for sending his daughters on to the field to play, but never have I given attention to these comments and instead I've always encouraged my children."
This has worked. Laiba and Hamda say that it's because of him that they were able to represent Pakistan at an international level.
"Our father instilled in us the confidence to not only find the most suitable pathway for ourselves, but also made us passionate to achieve our goals," said Hamda. "Our father thought and worked ahead of time, ensuring a brighter future for Laiba and me."
Pakistan is still considered to be one of the most dangerous countries for women. There are about 20 million out of school children in this South Asian country, most of them are girls. There are still highly conservative parts in the country where girls are either not allowed to leave their homes and in some parts the girls cannot simply go to schools because there are no schools near by their villages or their homes.
Pakistan is a very conservative country. In many parts, girls are not allowed to leave their homes. Many do not go to school.
So Laiba, who is only 16, considers herself lucky to have the unconditional support of her father. "We believe that we're blessed to have a beautiful family and an advantaged background but there are thousands of young girls who are chained, either due to their family or financial constraints," she said.
Now that the girls have achieved success, they want to create an organization to help other girls and women who want to play sport professionally. "We want to be friends, families and counsellors to all those who dream of pursuing sports as a career."
Author: Beenish Javed (act)