When Ovais walked out, never to return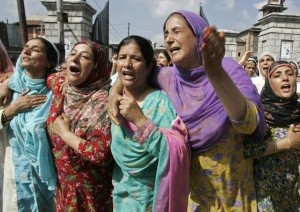 Her eyes are fixed on the door. Shagufta is waiting round-the-clock for her son to return home. She denies the fact that her wait is never going to end. Nearly five years have passed since her teenaged son was killed. Shagufta is yet to overcome the trauma of his loss. She is still not ready to accept that she has lost her 'Jimmy' forever. "It can't be true that Jimmy is no more, it has to be a lie," she mumbles.
On August 12, 2008, Ovais Majeed Zargar, alias Jimmy, left his home early in the morning to play cricket close to his house at Rainawari. Shagufta (42) and her husband Abdul Majeed Zargar (48) are still not able to make out as to why their son was killed by the Central Reserve Police Force troopers.
A sports lover, Ovais, was barely 19 years old. He was completing his Bachelor's degree at the Gandhi Memorial College. Ovais won a medal in road racing organized by his college just a week before his death. He ranked seventh.
"We came to know about it only after his death, when the college staff and principal visited us to pay their condolences," says Zargar. "They also provided us with photographs of him receiving the medal. That only increased our agony."
Ovais is among the scores of people who lost their lives after the 2008 Kashmir unrest in May and the subsequent economic blockade. On August 11, 2008, around 100,000 Kashmiri people, who were severely affected by the blockade, marched towards the Line of Control toward Pakistan to mark their protest. The civilians were met with gunfire and tear-gas shelling from the military and paramilitary forces. Meanwhile, Sheikh Abdul Aziz, an All Parties Hurriyat Conference leader, was shot dead. This intensified the situation.
Only the next day, young Ovais fell prey to a bullet of paramilitary forces. "On seeing Sheikh Abdul Aziz's photograph in newspaper, Ovais lamented that he should not have died. We didn't know he was next," says Aisha Begam, his grandmother. Recounting the fateful incident, the aged lady could not stop crying even for a while. "It was around 8:30 a.m. He asked for some bread. After drinking his tea, he went out to play cricket, but never returned," she narrates, with tears rolling down her face.  "Meanwhile a couple of troopers entered our lawn and asked us to shut the door. A trooper then broke down the window panes of one of our neighbours' house with a wooden rod," adds Zargar.
Parvez Ahamd, a neighbour, who had witnessed the whole incident from his window, narrates the incident. "A few boys were protesting against the economic blockade and pelting stones at the paramilitary troops. Ovais was heading towards his house, he was not protesting. In order to protect himself from stones, he tried to escape through another lane, but in vain," he says. "A trooper, pointing towards Ovais, yelled at his men, "Shoot that boy in the black shirt." As Ovais entered the lane, he was hit by a bullet on his left cheek. He died on the spot."
The local boys asked the troopers to either let them take Ovais to the hospital or kill them all. Ovais was first lifted into a load carrier by a youth of a nearby locality. "We saw the load carrier carrying him from window. But none of us knew it was Ovais, as some lady had tied his face with her scarf," divulges Zargar.
"Even my son asked the people to stage protests against the killing of a youth. He did not know it was his own son," laments Aisha, adding that the troopers ran away after the people came onto the streets. "Meanwhile somebody confirmed it was Ovais," she says.
Ovais had lost much of his blood on spot. He was then taken by a neighbour in his car to the Jawaharlal Nehru Memorial Hospital Rainawari and then transferred to the SMHS Hospital Karannagar and then to SKIMS Soura, where the doctors declared him "brought dead".
The last word Ovais had uttered was "dugg", which means pain in Kashmiri. He was brought back from the hospital only within an hour. He was then buried in the Martyr's Graveyard Eidgah after being kept in the lawn for a few minutes. "Only when his body was brought back could we believe that he was dead. Until then we were consoling ourselves that he was only injured," says Zargar.
His death evoked massive protests. An hour after the fateful incident, the angry mob set the office of an MLA at Rainawari ablaze. "The Jammu and Kashmir Police opened fire on the people, injuring half a dozen of them," he reveals. A complaint of the killing was lodged in the Rainawari Police Station on the same day by Zargar's cousin, but as yet, no action has been taken to nab the culprits.
"Ovais was a very hard working, gentle, well behaved and decent boy. We have lost gem of a student in him," his teachers at Gandhi College opine. Ovais was believed to be sober and simple boy. "He would never roam around along with other boys. He would come straight to home from the college and would stay at home after that," says his grandfather, Ghulam Hassan Majeed. "He was not demanding at all. He would not accept money from me either. He was very caring too," shares Aisha. Ovais would even help his mother and grandmother in the kitchen.
After his death at such a tender age, his family doesn't seem to be living to its fullest. It is almost as if one bullet has killed the entire family.
Author: Rabia Noor
Editor: Manasi Gopalakrishnan