Search Results for Tag: Kashmir conflict
Smiling faces, warm gestures, a cool breeze and exquisite foliage welcomed me in this beautiful part of the world. As a stranger in general and a woman in particular, I had many inhibitions and apprehensions about the country I was visiting.

read more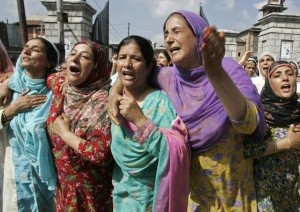 Her eyes are fixed on the door. Shagufta is waiting round-the-clock for her son to return home. She denies the fact that her wait is never going to end. Nearly five years have passed since her teenaged son was killed. Shagufta is yet to overcome the trauma of his loss. She is still not ready to accept that she has lost her 'Jimmy' forever. "It can't be true that Jimmy is no more, it has to be a lie," she mumbles.

read more