Hockey, love, India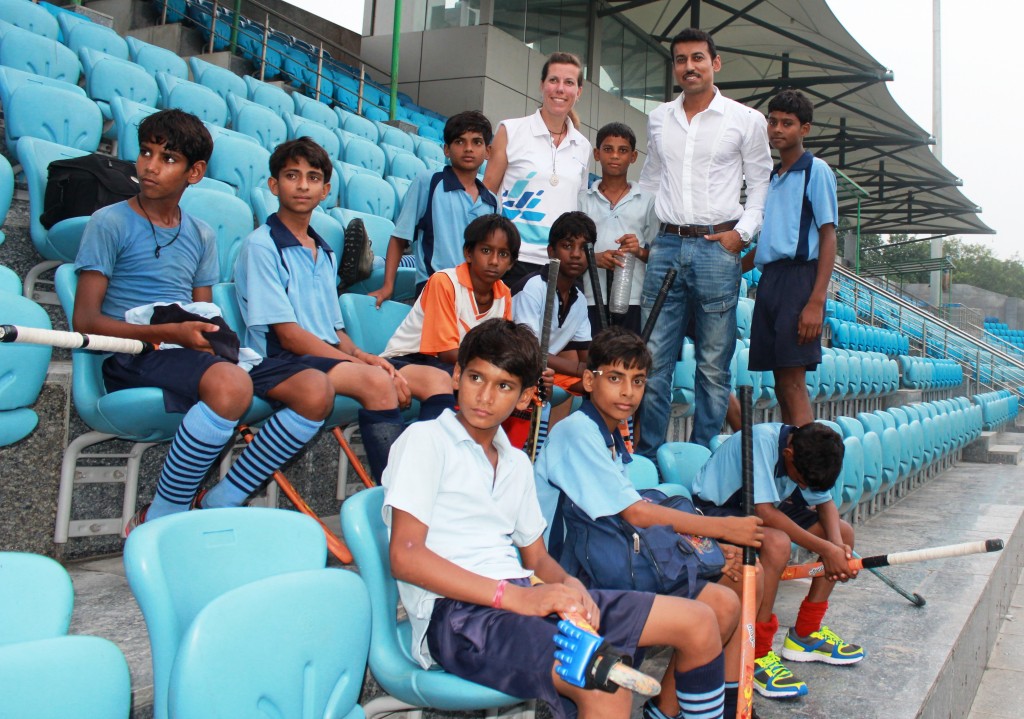 Rajasthan is a western Indian state along India's border with Pakistan. The state is known in the western world for its Maharajas and exotic palaces, but now residents in a small village are determined to get famous- with a little bit of help from Andrea Thumshirn.
38-year-old Andrea Thumshirn describes herself as "not-so-young," but her enthusiasm and energy level can put many people half her age to shame. Andrea has all the ingredients for becoming an outcast in the rather backward and orthodox Garh Himmat Singh village, about 130 kilometers away from Rajasthan's capital, Jaipur. She is a woman, white, single, wears jeans and a T-Shirt, has no qualms about talking freely to men and wants to teach hockey. Naturally, her efforts have been frowned upon. "They think I am crazy because I take a broom and clean up the area where I live," she says. "I am surprised that even women members of the Panchayat oppose me. But now they seem to accept me," she says.
Born and brought up in Nuremberg where she played hockey at the league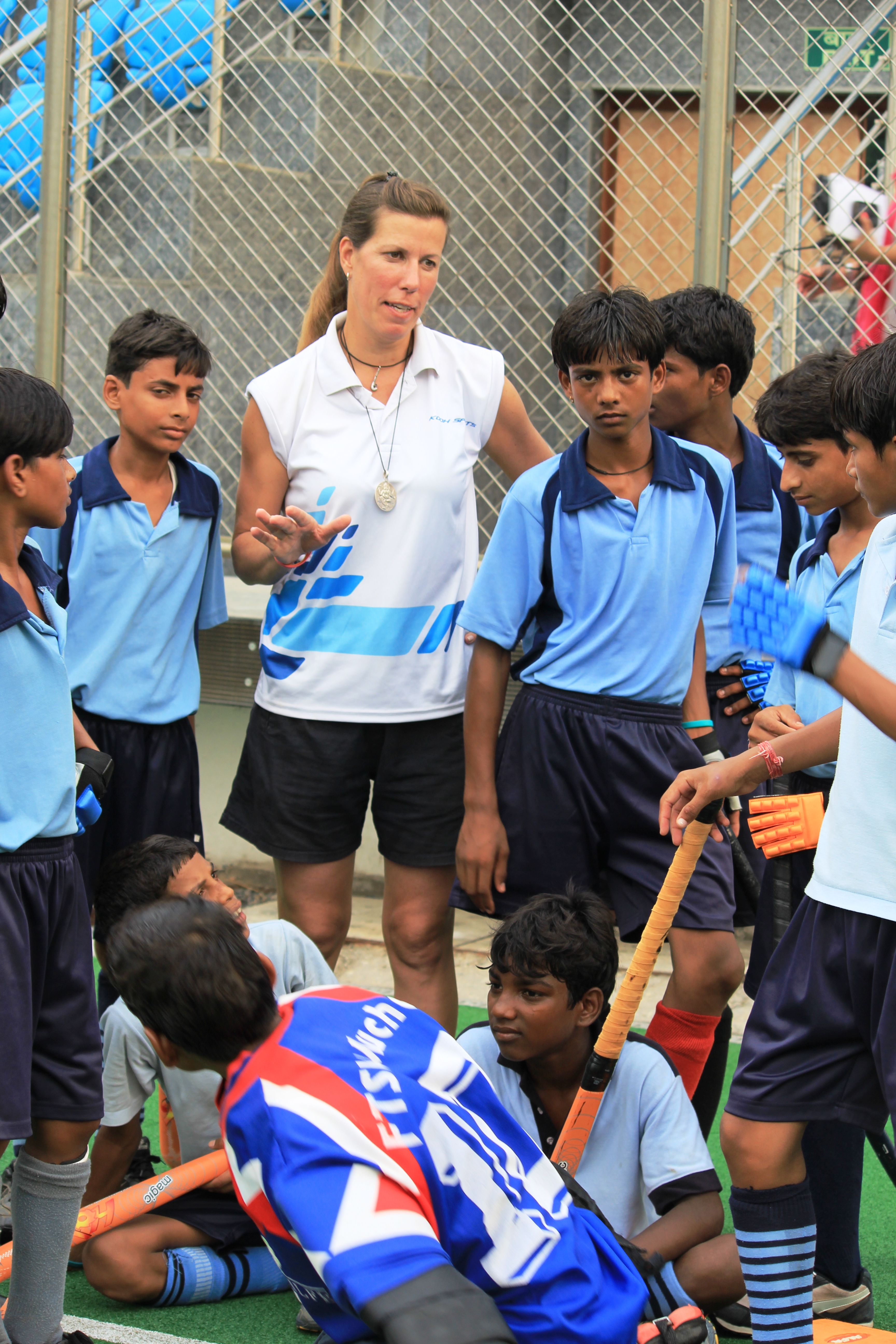 level, Andrea went on to study fashion design. But soon she switched over to tourism marketing and shifted base to Berlin. It was there that she launched her travel agency, Distin Asia. "I used to bring German tourists to India and Rajasthan was an absolute must for them," she recalls. "I was so much in love with the place that I decided to do something for the under-privileged kids there," she says. She found hockey as the right instrument to connect with them.
The hockey village
Andrea's sporting project is called Hockey Village India. Like a mother hen, she is always surrounded by local kids aged between 8 and 14, running around her with a hockey stick. She is inculcating in them a sense for hockey. Not just the boys, even girls are part of her project. "Getting them out of their homes was a challenging task but I have somehow managed it," says Andrea with an obvious pride. Considering that girls in Rajasthan villages usually play second fiddle to what men do, Andrea's achievement is Herculean. And she has done this all on her own.

"Some friends back home have been very kind," says Andrea. But sadly, the people for whom she is doing this are not lending a helping handr. On the contrary, she faces in her work. In India, astroturfs for hockey are still a luxury and Andrea managed to get one for the village from Germany. "It was donated by a hockey club in Bremen. But due to a tiff between local political groups it couldn't be laid. "It is lying unpacked," says a disappointed Andrea. Ironically, India's Sports Minister Jitendra Singh is also from Rajasthan.
Kids' day out
Andrea recently visited Delhi to give the kids a feel of the astroturf at Shivaji Stadium. Here she met Rajyavardhan Singh Rathore, India's ace shooter and Olympic silver medalist at the Athens Games. Rathore, a Rajasthani himself, visited the Stadium and assured Andrea and the kids all possible help.
This is not the first time she has taken the kids outside their village. They have travelled to Jaipur also to play in tournaments. Andrea bears all the expenses. In Delhi, they stayed at the Sikh Temple where they could eat at the free langar (community kitchen.) "It doesn't matter. As long as the kids get to play it is fine. I want them to play for India," says Andrea with conviction.
Andrea's determination has had an effect on hockey players and coaches even though officials have not taken her seriously. Former national coach Harendra Singh and captain of the Indian team, Sardar Singh, support her mission and have visited the village to give tips to the kids. Even top German national players Moritz Furste and Florian Fuchs support her.
Going back to Germany

News of rape and exploitation of women in India makes her parents worried back home, but Andrea refuses to return to Germany. Instead, her mother Eva-Marie has made two trips to the village. A trained teacher and an expert in gymnastics, Eva-Marie too has been a great hit with the kids.

Other than hockey, Andrea also tries to contribute to the children's education. " The Indian system of sport academies is wrong. They lay emphasis only on sport, no studies. To understand the coach and play, you have to be educated and intelligent,'' she believes.
This sparked off an idea to start a school for the kids, but funding was a big problem. Andrea had a novel idea to overcome this. Along with some volunteers from Germany, she drove a distance of 2,500 kilometres from Jaipur to Goa in two auto rickshaws! The idea was to create awareness and catch attention for donations. The trick worked.
"Besides Kindergarten and the Hindi-based primary school, I have just started an English medium school with the support of a Bangkok-based foundation." Apart from the local teachers she has roped in volunteers from Germany to teach the kids.
A born Baptist-turned-Dalai Lama fan, friendly and chirpy Andrea is a hard task master. But between the kids and hockey, she still finds time to fall in love with Indian men. She is keen to get married too.  "But they depend too much on their mothers," she says. "I guess they think I am too aggressive and strong for them. In any case I am too old for marriage now."
A "party person" by her own admission, Andrea misses just one thing in the village:  drinking beer. "Imagine a single woman drinking there," she says with a chuckle. But despite "tough living in the village, the show must go on," she says.
Author: Norris Pritam
Editor: Manasi Gopalakrishnan