Women in the news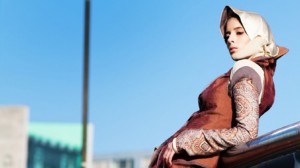 Women in China face tough choices when looking for love, Pakistan welcomes UN Secretary General Ban ki Moon, Muslim fashion is on the rise and there's a new alternative for women in the US who want to get an abortion. Find out the latest in women's issues.'Leftover women' in China face tough choices in looking for love
Educated, urban-based, and well earning women in China in their late twenties are finding it difficult to find husbands. In China, women in their late twenties who are unable to find husbands are called "shengnu," which means "left over." In Beijing, more than a third of women in their late 20s and 30s are looking for husbands. The government in China is trying to help the "shengnu" by arranging match-making events, but some women have a problem finding husbands who earn as much as they do and are compatible in other ways. Read more here.
Ban Ki Moon will discuss efforts to promote education during his two day visit to Pakistan
Ban ki Moon, the Secretary General of the U.N, is on a two-day visit to Pakistan. During his visit he will also have a meeting with students in Islamabad. Nearly half of all children in Pakistan and almost 75 percent of young girls are not enrolled in primary schools, according to UN and government statistics. Read more here.
Muslim 'Hijabistas' Generate Growing Fashion Buzz
Muslim bloggers and stylists are finding new ways on social media to promote fashionable clothes for Muslims. Usually, clothing for Muslim women, especially the head scarf, is considered oppressive and boring, but Muslim stylists have found ways to make them more trendy and stylish. Some of these stylists have a large following on social media. Read more here.

The day of the "Saturday women"
Women in the U.S who want to get an abortion, choose any day but Saturday so they don't have to be humiliated by people protesting against abortion. Women who don't make much money and can't afford to take a day off during the work week have to go through the trauma of facing these protestors. There have been instances when a protestor even tried to assault an escort. Read more here.
Clothing for Pregnant Women
Light cotton garments in a trapeze shape, maxi and shift dresses can make pregnant women look cool and stylish. A scarf with a dress will make it look more attractive. Read more here.